Life Goals
Elon Musk hopes Tesla will shift Earth's 'entire' energy infrastructure
"Master Plan Part 3 is all about achieving very large scale. In order to shift the entire energy infrastructure and transport infrastructure of Earth, there has to be a very high scale."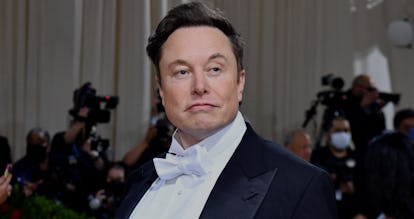 ANGELA WEISS/AFP/Getty Images
When he isn't trying to solidify and/or renege on plans to acquire social media platforms, Elon Musk likes to dream big — he's even laid out those high hopes over the years via his ongoing "Tesla Master Plan." Musk first introduced Phase One back in 2006, which he summed up in four key points:
Build sports car.
Use that money to build an affordable car.
Use that money to build an even more affordable car.
While doing above, also provide zero-emission electric power generation options.
So far he's accomplished, well, one of those goals for sure, and another two-to-three depending on what your definition of the word "affordable" is. Phase Two, revealed in 2016, had equally lofty ambitions like "stunning solar roofs," and self-driving auto software that would be "10X safer than manual." Again, the results were mixed, to say the least. But! Maybe he'll have better luck with his upcoming Phase Three, which Musk teased during a companywide meeting last night.
Scalability is the word of the day — From what little Musk explained during his discussion, it certainly sounds like he is still determined to expand Tesla into becoming a gargantuan, societal force of change. "Master Plan Part 3 is all about achieving very large scale," he said, as first reported by Electrek. "In order to shift the entire energy infrastructure and transport infrastructure of earth, there has to be a very high scale."
Musk offered a hypothetical scenario of 300 TWh "installed capacity" in EVs and battery packs, explaining that from there the company would need to work backwards to determine how to "achieve that tonnage from a mining and refining standpoint, but also do so in a sustainable way."
Far more complicated than it sounds — Simply "expanding" Tesla's global footprint in multiple energy areas sounds like a relatively straightforward goal, but like so many other Musk Plans, it will be much more difficult to make a reality than he claims. The high-energy batteries he talks about require the mining of rare earth minerals, a process that itself is currently extremely detrimental to the environment. To scale Tesla to the level Musk envisions implies a massive expansion of rare earth mineral mining operations — the feasibility of which is an entirely separate bag of worms. So, unless Phase Three includes some concrete solutions to that particular roadblock, results may be as spotty as Tesla's first two plans.