Culture
Disney World unveils 2-day 'Star Wars' LARP to escape reality, and it ain't cheap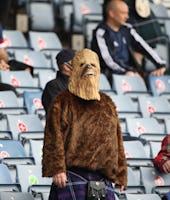 The starting price for a four-person room.
Ian MacNicol/Getty Images Sport/Getty Images
Disney enthusiastically debuted its newest escape from the real world earlier this week with Star Wars: Galactic Starcruiser, a two-day "immersive adventure voyage" near its Star Wars: Galaxy's Edge theme park in Bay Lake, Florida. The House of Mouse uses a lot of descriptors for the upcoming, themed live-action role-play vacation on the official website — "revolutionary," "bespoke," "magnificent" — but when it came to the price, there were no adjectives in sight, just the numbers. Specifically: a minimum of $4,800-$6,000 depending on the size of your group.
Please, Disney. Allow us to give you some free copywriting descriptors for those admission costs...
mind-numbing
obscene
classist
offensive
excessive
batshit
Here's a sample itinerary, for those curious what a minimum of $5,000 can get you in a galaxy far, far away from the rest of us disgusting proletariat stuck with only their Disney+ accounts for any Star Wars-related distractions. From what we can tell, there's only half an hour dedicated to "cocktails," which we feel is a woefully short amount of time to prepare yourself to eat whatever the hell this is:
For those of you actually interested in Star Wars: Galactic Starcruiser: 1) It's set to launch in Spring 2022, and 2) Could we convince you to give that $6,000 to us instead?
Cheaper ways to watch rich people enjoy space — Don't have $6,000? Don't worry, you can still watch the uber-wealthy enjoy space and space-adjacent recreational activities from the comfort of your discount couch. Next month, Netflix will begin airing its SpaceX docu-ganda, Countdown: Inspiration4 Mission to Space, a "near-real time" miniseries showcasing the training, launch, and return of the Technoking's first all-civilian orbital rocket crew.
Alright, how about something genuinely nice? — Okay, just as a reminder (to both ourselves and you), it's not all bad out there when it comes to space-inspired experiences. Take, for instance, Proud Father—the solo project of Brendan Chamberlain, who just so happens to work for NASA on the Mars Perseverance rover project when he isn't making bedroom space-rock. It's very pretty, very catchy, and does not cost you $6,000 to enjoy. Hell, go ahead and put on a Star Wars IP, set the volume to mute, and listen to Chamberlain's new album, The View of Earth From Mars, for the best of both extraterrestrial worlds.