Culture
Disney came out on top in Google's 2019 Year In Search
*chanting* Baby Yoda, Baby Yoda, Baby Yoda...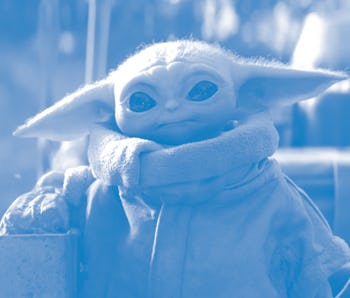 Baby Yoda is the year's most popular baby, if Google search trends are anything to go by. Google's Year In Search roundup was released today, presenting 2019's most-searched terms across 27 different categories. The data is presented as both a list (with deeper dives into interest over time, interest by geographic location, and related searches) and a two-minute video montage.
Yes, Baby Yoda was the most-searched-for baby — The second-place spot went to Baby Shark. Apparently the internet is more interested in fictional babies than their real counterparts. Other popular baby-related searches this year included "Kim Kardashian's baby," "royal baby," and "Cardi B's baby."
So much Disney — It's notable that, despite being only a month old, Disney+ found its way to the top of the overall searches category. Combine that with the fact that "Baby Yoda" was the most-searched-for baby of the year, and it looks like Disney won a fair share of the Google search game this year.
A decade in searches — Also neat: with the end of the decade fast-approaching, Google posted a round-up of the biggest searches of 2010 on its blog. Looks like Justin Bieber was just as popular as you remember.