It's fight time
Dish begs FCC to deactivate Starlink setups used in moving vehicles
Elon Musk has been encouraging customers to use Starlink while in motion, even though it goes against FCC rules.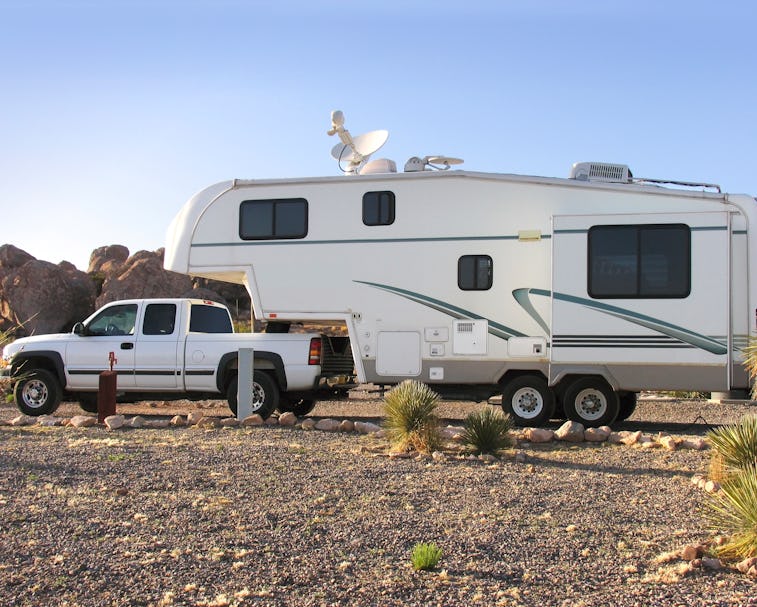 duckycards/E+/Getty Images
Dish Network has filed an official petition asking the FCC to make SpaceX deactivate Starlink setups for customers who have been using their satellite dishes on moving vehicles. Starlink recently introduced a Portability feature that allows customers to temporarily relocate their Starlink hardware to a new location, as well as a service specifically for RV drivers.
Neither official Starlink feature allows the company's satellite dishes to be used while a car, camper, or boat is actually in motion, though. SpaceX specifically notes in its product notes that customers must stop a trip and complete setup before connecting to their Starlink service.
The executives over at Dish — a prime Starlink competitor — are online enough to know Starlink customers are using their satellite internet in moving vehicles in spite of this guidance. And, given that Starlink doesn't have the necessary permissions from the FCC for its devices to operate while moving, Dish says SpaceX's allowance of such activities is essentially illegal.
The rivalry wages on — Dish is essentially asking SpaceX to confirm whether or not it can tell when customers are accessing their satellites while in motion. If it can, Dish says it's the company's imperative to deactivate those customers' accounts — and if it can't, Dish says the FCC should do so.
Dish's letter is brimming with thinly veiled hate for basically everything SpaceX stands for. It's clear from even a quick scan that this isn't just about moving Starlink setups.
"Dish Network Corporation wrote to Starlink on May 27, 2022 … SpaceX finally deigned to respond on June 8, 12 days after Dish's letter," the company writes. "The response still does not answer any of Dish's questions about SpaceX's practices. Instead, it brims with incredible claims, outright inaccuracies, and tacit admissions, including a near-frivolous attempt to justify its actions based on the tragic war in Ukraine."
SpaceX is firing right back with ammo of its own. The company filed its own letter with the FCC last week in which it calls Dish's complaints "feeble publicity stunts." Other highlights of the letter: calling Dish's citation of tweets from Elon Musk and SpaceX "fanciful" and saying Dish has a "low opinion of American consumers."
Elon, again — Both SpaceX and Dish make some good points in their respective FCC letters.
Some of the tweets Dish points to are really weak evidence that SpaceX is actually encouraging customers to use their service while in motion. Language like "any location" or "wherever" — which constitutes most of the evidence compiled in Dish's latest letter — doesn't exactly equate to telling your customers to use the service while driving a boat.
But some of the tweets Dish points out speak more explicitly about Starlink working while in motion. Interestingly enough, all of those tweets were sent by Elon Musk. The Starlink and SpaceX accounts never tell customers that in-motion use works — it's always trusty Musky doing the encouraging here.
SpaceX's June 8 letter to the FCC asks the Commission to consider accelerating the application it's submitted to officially allow Starlink use in moving vehicles. If the FCC does so, Dish's arguments will essentially turn void. It certainly won't stop Musk from sending speculative tweets with real-world consequences, though.