Culture
Direct messages on Instagram won't load and people are freaking out
With this week's Twitter hack fresh in people's minds, multiple Instagram users report direct messages aren't working, and reinstalling the app isn't helping either.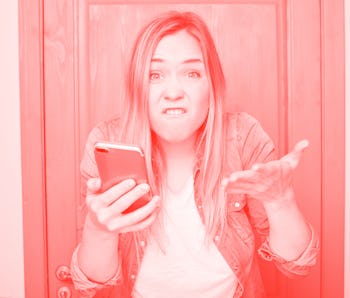 Shutterstock
This week has been pockmarked with multiple outages and disruptions on different social media platforms. You are probably aware of Twitter's recent outage that temporarily halted verified accounts from tweeting — much to the joy of those opposed to the service's controversial verification "blue checks" — after a cryptocurrency scam hit high-profile Twitter accounts. Now it looks like Instagram's direct messages feature is down, Forbes reports.
Multiple Instagram users took to Twitter on Thursday to complain about their direct messages on the image-sharing service failing to load. Some reported trying to log out of the app and back in again, while others tried reinstalling it, all to no avail.
This is the third outage at a Facebook-owned service in recent months. Messaging service WhatsApp experienced an outage, and in a more serious incident, due to a glitch in Facebook's software development kit, scores of users were unable to log into their Spotify, Pinterest, and Tinder accounts in June.
What exactly happened? — Facebook has yet to provide a statement on the issue, but there are are a number of possible explanations for it. It could have been a glitch in the software development kit. Developers for third party apps are constantly working on optimizing integration with other apps and at times, issues with processes like onboarding, API calls, or other interoperability elements can suffer a hiccup or two, causing numerous users to experience a sudden disruption on their end.
Considering the fact that Facebook's software development kit is one of the most used and relied upon by developers around the world, the likelihood of a glitch or error is high. When it came to the outage on Pinterest, Spotify, Tinder, and other third-party apps, the company did acknowledge that its software was to blame. "We are aware and investigating an increase in errors on the iOS SDK which is causing some apps to crash," a statement from Facebook's developer team read at the time. It didn't take long for the firm to mark the issue as resolved.
Understandable worries — App outages happen all the time. But the context here is key in order to understand why so many appeared worried about their direct messages conking out. With the recent cryptocurrency scam on Twitter, high-profile accounts belonging to the likes of Barack Obama, Elon Musk, Kim Kardashian, and others took major hits.
It directly reflected how rather easy it is to compromise Twitter's internal security protocols by compromising a staff member. So, if Instagram users seem concerned, they have some legitimate reason for their fretting. In all likelihood, though, it's a minor hiccup not another case of platform-wide hacking. But you can't blame people for being skittish.