U Up?
Debt collectors can now harass you on Facebook, Instagram, or Twitter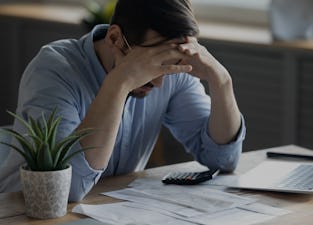 The number of Americans with at least one debt in collections.
Shutterstock
We hate to be the bearers of bad news here, but nonetheless: Debt collectors can now legally attempt to contact you via your social media accounts like Instagram and Facebook, thanks to new rules set into motion during the Trump administration. Oh, and they can try getting into touch via email and text messages, too.
According to a rundown from The Washington Post, new changes to the Fair Debt Collection Practices Act (FDCPA) are going into effect this week — and they dramatically expand the ways debt hounds can remind you that you owe them money. Ironically, the FDCPA has been previously billed as a way to "eliminate abusive debt collection practices," of course. While there are a few stipulations intended to prevent sneakiness... c'mon. We all know it's only a matter of time before the changes are abused by thirsty debt collectors.
No "subterfuge" allowed — Technically speaking, debt collection workers must be clear and straightforward about their intentions when attempting to contact people via social media. "[N]o subterfuge is allowed," says The Washington Post, adding that, "If a debt collector sends you a private message requesting to add you as a friend or contact, the company must make it clear they are attempting to collect a debt." Collectors must also provide a clear way to opt out of receiving additional messages through social media, so that's nice, we guess?
Save us, Joe — While billed as an attempt to streamline and modernize communications methods between debt collectors and debtors, it certainly sounds like these new avenues are ripe for exploitation by bad actors and opportunists. People routinely fall victim to paying more than they actually owe, or even paying debts that have already been squared away thanks to various debt buying practices. Being contacted by actual individuals through social media and texts just adds yet another layer of potential abuse. Consider this yet another ripple effect from the Trump Era that we will continue to feel for quite some time.