🏳️‍⚧️
Workers stage 'die-in' at Amazon Pride to protest transphobic book sales
"We will not allow Amazon's attempt at rainbow-washing sweep so much transphobic hate under the rug. This is a matter of life and death."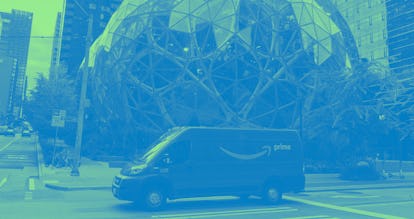 400tmax/iStock Unreleased/Getty Images
Amazon's annual Pride celebration event at its Seattle headquarters was interrupted yesterday by a staged "die-in" by employees protesting the company's continued sale of transphobic books. As The Washington Post and elsewhere report, around 30 workers affiliated with a group called No Hate at Amazon lay on the ground while wrapped in trans flags as representatives issued statements both about supporting their fellow LGBTQ allies and about their grievances with Amazon's executive branch.
"We are here because Amazon has failed us. We acknowledge the tireless work of the workers who use Glamazon as a force for good, and who make events like today's flag-raising possible. We believe in our fellow employees. We believe that you are on our side," they explained before inviting their coworkers to join them in the demonstration.
Although Amazon has long publicly supported LGBTQ rights, it continues to sell numerous books and publications deemed virulently transphobic by those in the queer community, such as a thinly veiled anti-trans children's release written by conservative troll Matt Walsh, and others that refer to LGBTQ identities as a "mental illness."
Documented hypocrisy — In their speech, No Hate at Amazon representatives explained that they have no issue with free speech or differing socio-political opinions, but that the line needs to be drawn at selling books actively inducing harm and pressuring LGBTQ communities into silence. The group cited a doxxing campaign of concerned trans employees pushed by Walsh and his fans.
Despite being publicly named across major conservative media outlets, Amazon reportedly did next to nothing to address the problem. As such, No Hate at Amazon explained that trans employees "quit in fear for their safety because Amazon has not taken the steps necessary to protect them."
"We are making a heartfelt appeal to your empathy and your humanity. We agree that there is value in representing a vast range of different and opposing viewpoints. We believe in democracy and diversity as much as any of you," they said. "We are asking for an end to the sale of content that causes such egregious harm. We are asking for a workplace in which we feel safe and free from discrimination."
Supporters are urged to sign the group's ongoing petition calling on Amazon executives to craft better policies that ensure safety and actual allyship with the queer community.
"There is a direct line between the hateful transphobic rhetoric Amazon is profiting from, the unprecedented anti-trans legislation across the United States, and the violent and often deadly physical attacks so many of our community face," the group said.
Watch: Extreme Reviews