QVC 2.0
Amazon's been offering fat paychecks to attract live shopping influencers
Amazon Live is just too QVC to really bring in social media stars, though.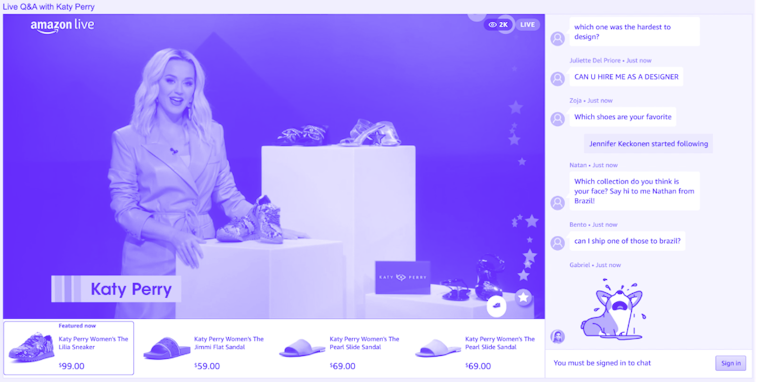 TikTok's runaway success has given rise to an entirely new generation of influencers — and just about every other platform is nervous about that prospect. Amazon, for example, has been sending monetary offers to high-profile TikTok users in an attempt to bring them over to Amazon Live, the company's livestreamed shopping feature. Some influencers were offered upwards of $9,000 per month to ditch TikTok.
The Amazon Live team has been reaching out to TikTok and YouTube users with large followings since 2020, according to a new report from Insider, with offers ranging from $2,000 to $9,000 per month. Each offer was determined based on the user's follower count and how much revenue they might drive on Amazon Live.
Live shopping experiences saw something of a boom last year, with companies like Facebook , TikTok, and YouTube souping up their QVC-like offerings. Apparently Amazon's entry needed some poaching power to keep up.
Lucrative for some — Those TikTok users Insider spoke to each had around 100,000 followers on the platform. Amazon offered one of them up to $9,000 per month if they livestreamed at least 300 minutes of content over five occasions in a single month and drove $22,000 or more in revenue. Anything less than $11,000 in revenue and they'd end up with $2,100 per month. Two other TikTok creators, meanwhile, were offered $2,000 per month for 90 minutes of content, or $4,000 for four hour-long livestreams per month.
A YouTuber with about a million subscribers, meanwhile, was offered the same $9,000 deal. That person was also offered $5,000 per month if they did five hour-long livestreams per month.
These offers were made on top of Amazon Live's typical commission rate, which ranges between 1 and 10 percent. One creator told Insider they took the gig for the "guaranteed money," but that they didn't see a point in staying after those funds had been exhausted.
Is money alone enough? — Here's the thing about Amazon Live: no one knows about it. Had you ever heard of it before reading this article? We barely had, and we keep up with this stuff for a living.
Amazon Live differs from similar offerings on TikTok, YouTube, and Facebook in that there's not really any social aspect to the livestreamed sales. This seems to be a sticking point for creators, many of whom hope to use livestreams to connect with their audiences. Amazon Live doesn't modernize the QVC experience enough to really attract social media influencers.
According to those creators that spoke to Insider, Amazon doesn't even provide free products for livestream hosts to test out.