Ya Filthy Animals
Airbnb is hosting the 'Home Alone' house for one night this month
You'll apparently be greeted by (a grown-up) Buzz McCallister, too.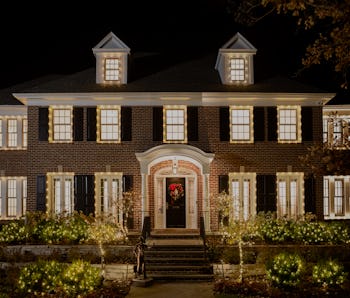 Sarah Crowley
It's officially December, which can only mean one thing: Time to queue up Home Alone and Home Alone 2: Lost in New York on repeat (the franchise stops there, as far as we're concerned). To celebrate, Airbnb has secured a one-night stay at the original McCallister family home outside Chicago later this month for four lucky super-fans. Not only that, but guests will be greeted by none other than Kevin's older brother, Buzz (actor Devin Ratray), who swears he's a changed man.
The booking window begins on December 7 at 1 p.m. CST, with guests staying at the house on December 12. Airbnb claims the one-night holiday getaway only costs $25, but we suspect some of those additional, infamous "taxes and fees" might bump that up a fair amount. At least you can rest easy know that, were the house to be broken into by bumbling bandits, the company apparently has a team dedicated to handling just that kind of thing. Check out some images from the home (alone) below:
Sarah Crowley/Airbnb
Sarah Crowley/Airbnb
Sarah Crowley/Airbnb
Sarah Crowley/Airbnb
Sarah Crowley/Airbnb
Sarah Crowley/Airbnb
Sarah Crowley/Airbnb
Lots of appropriate amenities — Aside from the joy that would come simply from being able to stay in the McCallister house (which still seems very swanky), Airbnb promises a number of amenities to spruce up your stay, including booby trap projects, complimentary aftershave, a candlelit Chicago pizza and Kraft Mac n' Cheese dinner, and even a meet-and-greet with a real, live tarantula. We assume you'll be allowed to skip that last one, though. We certainly wouldn't blame you.
'Tis the season — Airbnb's offering is only the latest in a number of Home Alone-related tie-ins this year in honor of the original film's 30th anniversary, alongside the release of the new franchise entry, Home Sweet Home Alone. Although these Adidas limited edition sneakers are arguably the best of the bunch, LEGO's gigantic McCallister home replica certainly gives them a run for their money. Speaking of which, you'll apparently get to take home one of the latter gifts upon leaving your Airbnb stay at the McCallisters' place.