Tech
Twitter rolls out new features for Topics and says it's designed to be 'free from abuse'
Criticism, satire, and disagreements included.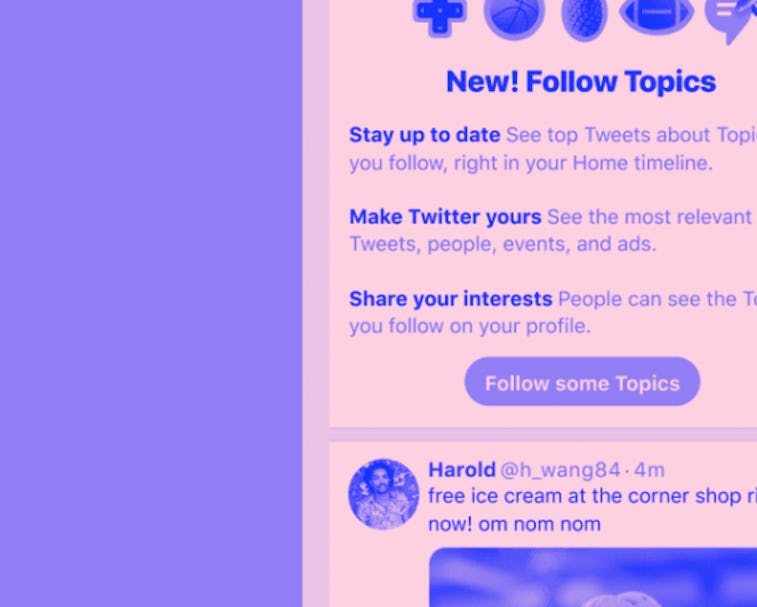 Twitter this week announced new upgrades to its Topics feature that rolled out globally back in November. In a blog post on Thursday, the social network announced users can now follow nearly 1,000 topic conversations with a single tap. Twitter says it chooses each topic based on volume and health of conversations, and adds additional topics each week.
So what makes a healthy conversation? — The social platform describes it as "one where you want and feel safe to participate" and is "free from abuse." Twitter says it looks at a number of signals, which seems to also hint at its general practices, not just Topics, for curbing abuse on the platform.
"We look at a number of underlying signals, including how others interact with both the Tweet and the author — things like reports, blocks, and whether people have dismissed similar recommendations by clicking 'show less often' or muting closely-related keywords," said Savannah Badalich, product trust partner.
Twitter says that "tweets that criticize, satirize, or disagree within a Topic are a natural part of a healthy conversation and are eligible for inclusion." However, that leaves a lot of room for interpretation.
We'll see how it goes — Twitter seems to do a lot of wavering back and forth with its policies, especially around abuse and harassment. With the ever-increasing amount of trolls, bots, and fake accounts engulfing the platform daily, this just seems to be another backdoor fake users can target to access real accounts and users. While the social network tries to make it seem as though it has a handle on these sorts of things, we can't help but wonder if actually more disinformation and propaganda are soon to follow.