Tech
Sega's Mega Drive Mini 2 comes with a make-believe Sega CD add-on
The second-generation mini retro console features 50 built-in games and a cosmetic Sega CD attachment for that full retro look.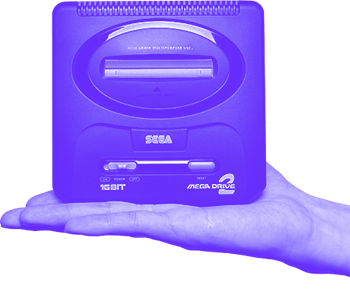 Sega
Sega is giving us exactly what we want: more of that sweet, retro gaming nostalgia. Following the success of its Mega Drive Mini from 2019, Sega announced a follow-up that has 50 more classic video game titles preloaded onto it. So far, the Mega Drive Mini 2 is only slated for a release in Japan, but there's some hints that it will eventually make a global release.
For those unfamiliar, Mega Drive was the branding of the Sega Genesis outside of North America. To the joy of the millions of gamers who grew up on Sega, the company revived its hit retro gaming console by miniaturizing and modernizing it. Now, Sega is working on another iteration of its retro revival efforts, the Mega Drive Mini 2 that's based on the second version of the Sega Mega Drive that was released in the 90s.
Mini Model 2 — The Mega Drive Mini 2 is actually 55 percent the size of the original console it's modeled after and comes with the six-button Fighting Pad 6B controller. Sega included 50 classic titles in the second version including Virtua Racing, Sonic the Hedgehog CD, and Shining Force CD, which are all different from the 42 titles found in the first Mega Drive Mini. Sega did work with M2 Co. again in emulating these titles for the Mega Drive Mini 2.
You don't actually need the Sega CD attachment to play those CD titles because they're all already built into the Mega Drive Mini 2. But as a lovely throwback, Sega designed a decorative kit that imitates the Sega CD add-on, including a Virtua Racing cartridge and a Sonic the Hedgehog CD disc. These add-ons are purely cosmetic, but they really do complete that old-school look.
Worldwide release? — Sega priced the Mega Drive Mini 2 at 9,980 yen or around $75 and the Sega CD attachment at 4,500 yen or around $35. The redesigned retro console is due to be released only in Japan on October 27. It's still worth holding out hope that the Mega Drive Mini 2 will be released worldwide though, especially since its predecessor made it across the ocean.
We also got some hints in an interview on Famitsu, which was first spotted by Gamesrader. The interview with Yosuke Okunari, the creative producer for Sega, hinted at expanding the Mega Drive Mini 2's availability overseas, likely to North American and European markets.