Tech
Royole's smart display with a bendable screen wrapped around its body costs way too much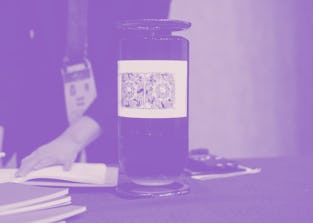 Royole, the Japanese company best known for its visually impressive but somewhat clunky flexible screens — like the universally panned "crunchy" FlexPai foldable phone — is bringing its bendy tech to a smart speaker/smart display. Its new Mirage Smart Speaker is essentially a JBL Pulse-like smart display with an Amazon Echo Show's smart display wrapped around its body.
New take on smart displays — Smart displays all look pretty similar: basically tablets bolted onto a smart speaker. The Mirage's bendable 8-inch AMOLED touchscreen (1,920 x 1,440 resolution) breathes new life into the product category with a design that Input Guides Editor Evan Rodgers describes as a "nano cyber keg."
Toggle mics or camera on or off — The Mirage has a halo-like ring above and below, capacitive touch controls on top, and a ring of LEDs for ambient lighting around the bottom. It offers 360-degree audio and beam-forming mics for listening in on your conversations, err, voice commands. Fortunately, for privacy worrywarts, there are switches to turn off the mics or the camera.
Sounds like good sound — On paper, the Mirage sounds like it has decent sound with three full-range drivers and a passive bass radiator. We didn't get a demo of the speakers so who knows how well it really sounds.
Crazy expensive — Holy crap, this smart display is expensive. $899. You have to really be in love with bendable displays to blow money on this when it comes out in Q2. Any sane person will stick to a $99 Nest Hub or $129 Echo Show.