Tech
Official support for Windows 7 ends today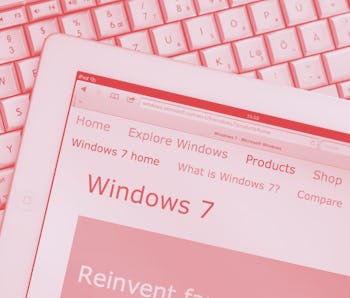 wundervisuals/iStock Unreleased/Getty Images
Today, Microsoft will stop officially supporting Windows 7. If you're still running the 10-year-old operating system your desktop or laptop won't stop working, but it will be more vulnerable to security risks. As Engadget reports, you can pay for extended support, but that's only an option until 2023, and it's going to get more expensive each year, so you're probably better off just upgrading to Windows 10 instead.
If you have a license for Windows 7 or 8.1 you can still upgrade to Windows 10 for free, according to Windows Latest, even though the free upgrade offer officially ended in December 2017. Though, it's important to note that just because this works doesn't mean it's legal. You could still be violating the license agreement in using a product key for Windows 7 to activate Windows 10.
Upgrades aren't just about money — Cynics may argue forcing people to upgrade is little more than a gouging strategy from Microsoft. While Microsoft certainly won't complain about increased Windows 10 sales, consider that the other main computer in your life, your smartphone, gets software updates monthly and a new operating system every year or two, and suddenly a decade of shelf life for Windows doesn't seem so miserly.
Yes, phone operating systems tend to be free, but you're paying for them with the cost of the device. Nonetheless, smartphone software updates aren't merely aimed at providing new features, they're about security. When the WannaCry malware ran amok Microsoft had to scramble to issue a patch for the then-ancient Windows XP because lots of people were still running it. So it's no wonder the company would like to avoid a repeat with Windows 7.
Pros and cons — On the downside, upgrading to Windows 10 means ads in its calendar and mail apps. But on the upside, you can search for images in the Windows search bar, and at least you won't have to contend with Internet Explorer.