Tech
Nothing Ear (1) wireless earbuds come with ANC for $99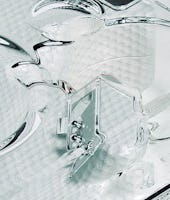 The price of Nothing's forthcoming wireless earbuds.
Nothing
Ex-OnePlus co-founder Carl Pei is trying to do it again: break into a saturated market with a product that not only looks different, but undercuts the competition on price.
Pei's new tech startup, Nothing, will launch its first product — the "Ear (1)" wireless earbuds designed by Teenage Engineering — on July 27. According to a Nothing spokesperson, the Ear (1) will have "state-of-the-art" active noise-cancellation (ANC) using "three high definition mics" as well as "leading specs" — all for $99.
Nothing has been busy sharing teasers as it inches closer to the Ear (1) launch later this month. The latest sent to us by the secretive, not-so-secretive startup:
Cheaper than we expected — At $99, the Ear (1) will cost a lot less than anyone was predicting. AirPods Pro sell for $249. Amazon Echo Buds 2 for $120. Samsung Galaxy Buds Pro for $200. Sony WF-1000XM4 for $280. What features will we see from these other wireless earbuds not make the cut? Wireless charging? Hit to battery life? Comfort?
Transparent design is hard — Pei has been vocal on the Ear (1)'s delay from June to July. Turns out designing a product with transparent materials is really tough. No kidding, there are all kinds of imperfections that literally are more visible on transparent design than a solid color. Anyone who grew up on the original iMac or Game Boy knows what I'm talking about.
Just take a look at this other teaser image. I keep asking the same question with every pic: what are we looking at? If you squint hard you can maybe see some shapes that sorta look like wireless earbuds and maybe a charging case?
Doing nothing with Essential — Remember when Nothing scooped up the IP remains of Andy Rubin's Essential and everyone went into a frenzy over the possibilities of integrating its patents and design? Yeah, Nothing's not doing anything with the name or IP. Pei told TechCrunch it acquired Essential just because it had floated it as an early company name. It's probably for the best that Essential doesn't come with the stain of the failed PH-1 phone or Andy Rubin.