Tech
Modos's E Ink laptop could save your eyes from the scourge of screen time
The Paper Laptop is currently being prototyped by Modos but is an open-hardware and open-source project.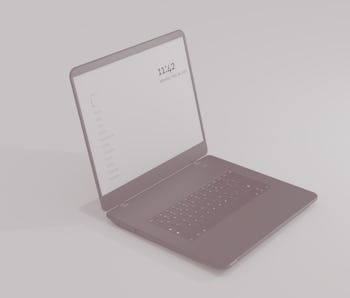 Modos
While working from home has plenty of benefits, there are certain distractions that can come with the territory; that's why Modos is making its Paper Laptop, a laptop designed with an E Ink display, sans backlighting.
The Paper Laptop still has your traditional laptop form factor, but its unique black-and-white display is just like the ones seen on newer e-readers. This way, you have all the practicality of a laptop that works for reading, writing, and any other work-related task, while making distractions like YouTube and gaming practically unbearable. Plus, the Paper Laptop has a longer-lasting battery than traditional laptops and won't strain your eyes when you're stuck in front of a screen for long stretches.
Sign me up — If you're curious how it'll look, Modos put up a recent demo showing off its Paper Monitor, which uses the same technology that will power its Paper Laptop.
Modos says in the demo that it's still a very early version of an engineering sample with a long way to go, but so far, the sample looks fairly functional and clean. The demo shows that the Paper Laptop and Paper Monitor weren't really designed to play videos with its limited black-and-white display, but at the same time, it shows it's more than capable for basic tasks like word processing or some light web browsing.
Modos is still working on the Paper Laptop, but the project is open-hardware and open-source since the startup wants to work with the community in designing the device.
Calling for community help — Modos has a few working prototypes of the Paper Laptop, but is currently making a new revision and building the chassis. The startup is also looking for around 50,000 people to join its Community Pilot Program that would get early access to the Paper Laptop for testing purposes.
Even though it's just a prototype right now, there's some serious appeal with the Paper Laptop. Modos doesn't really have a track record to go off of since it's a small startup based in Boston, but its design definitely caters to those looking for a distration-free work laptop. There's also a serious possibility to include a color display since we already have plenty of color E ink displays out there. But there's just something to that black-and-white display design that makes it feel like the perfect workhorse.