Tech
Micron's new 1.5TB microSD can record video for five years straight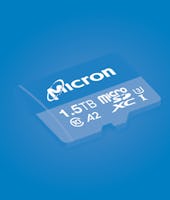 the capacity of Micron's i400 microSD card
Micron / Twitter
It's still impressive how much storage space companies can fit into such small memory cards. It's even more impressive that Micron was able to fit 1.5TB of storage into its i400 microSD card. That's as much, if not more, storage space than most SSDs out there.
The i400 will take the title as the largest capacity microSD card, dethroning the many 1TB microSD cards that are already on the market from Sandisk, PNY, Samsung, and others. Micron designed the i400 specifically for video security usage though, so think dash cams, police body cams, AI-enabled factory cameras, and even smart home security systems.
Even though the Micron's microSD card is meant for commercial use, having such a large microSD card for a smart home security system means you can just set it and forget it, rarely having to check in on it.
Years of footage — Unfortunately, Micron didn't reveal the exact specs like read or write speeds of the i400, but it's likely to be very fast to keep up with its intended commercial use. Micron did say that it's using a new 176-layer 3D NAND technology to achieve the 1.5TB, which is the same technology found in other modern storage solutions like SSDs or even some USB drives.
In terms of ballparking how much video you can record with 1.5TB, Micron said the i400 can handle five years of high-quality continuous recording and has a mean time to failure of two million hours. The i400 can also handle 4K video recording and up to eight AI events per second, like object detection, or license plate and facial recognition.
Storage wars — Micron said it's currently sampling its i400 microSD card to certain companies, but it hasn't revealed any pricing details yet. We can expect it to be pretty expensive since it has the largest capacity of any microSD card we've seen yet and features meant for commercial use.
With microSD cards trending larger and larger, we can probably expect a 1.5TB version for consumers eventually. It may be initially expensive, but at the rate we're going, it's only a matter of time before an even larger capacity microSD card gets past the 1.5TB mark.