WWDC 2022
The Apple gods finally answered my prayer with a proper iPad weather app
It only took 12 years for Apple to come to its senses and make an official weather app for iPadOS 16.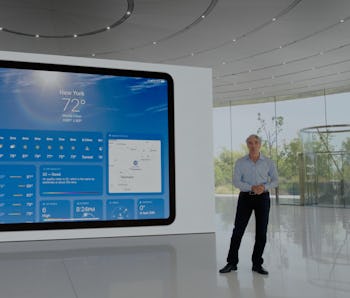 It has been a long and difficult journey, but the Apple gods have finally answered my — nay, our — prayers: the iPad is getting an official Apple-developed weather app in iPadOS 16.
Apple senior vice president Craig Federighi dropped the bombshell announcement at WWDC 2022, fulfilling every iPad owner's number one request. For me, a day one iPad owner, it was the only thing I really wished for.
Currently, on iPadOS 15 (and older), tapping on the Weather app doesn't actually open up an app. Instead, it kicks you over to Weather.com. It's not that Weather.com is not accurate, but that the website is so horrible, so terrible, so ad-infested that it has been a huge stain on Apple, a company revered for clean software design. Seriously, go to the website and you might be hit with a pop-up telling you that your iPad has been infected with a virus and needs antivirus or something.
With iPadOS 16, Apple seems ready to wash its hands of Weather.com with its own proper native app. I don't need it to do much — it just needs to be a larger version of the Weather app for iPhone and I'll die a happy man. I'm sure every iPad owner will agree with me on this. I mean, we've been waiting a really long time for this — 12 years to be exact. The original iPad came out way back in 2010!
Now, if only Instagram would take a hint and make an iPad app instead of trotting out the same excuse that it's resource-strapped...
This kinda-crappy screenshot isn't a whole lot to go on, but it's enough to satisfy me. Words can't even describe how much I'm looking forward to tapping the Weather widget on my iPad and not be taken to a poorly designed website.
That's it. That's the whole story! Now, excuse me, I have an iPadOS 16 developer beta to install on my M1 iPad Pro.