a e s t h e t i c
At long last, Instagram lets you pin posts to your profile
It's another feature taken from TikTok and we're kind of into it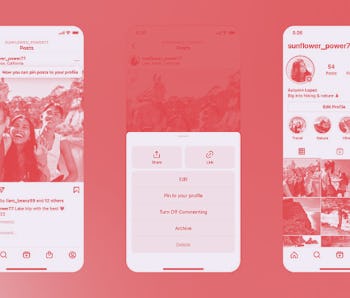 As Instagram continues its battle against TikTok, it's been adding features with reckless abandon. Some — the chronological feed option and swipe-up links for all — are better than others (looking at you, bribes for creators to make Reels, and the notorious Shopping tab). This week, Adam Mosseri, Head of Instagram, confirmed in a Fireside chat-esque social media video that Instagram will let you pin up to three posts to the top of your profile grid.
We knew this was coming — In January, Alessandro Paluzzi, reverse-engineered Instagram and spotted a similar feature. Pinned posts aren't anything groundbreaking: Twitter has let you pin tweets since 2014, and TikTok introduced the feature in late 2021. In social media platforms' typical fashion (copying each other with about as much subtlety as little kids peeking at each other's tests), Instagram is rolling out practically the same thing.
And I gotta say — I'm a fan. For better or for worse, social media users represent their personhood with a flat, scrollable grid-lay, and shameless profile stalkers will get an impression about you from your recent pictures. Some people are doing a great job of meticulously pruning their profiles into beautiful extensions of their selves, but others just want a break. So to me, it's nice to have the option to put my best, most important posts up at the top. Maybe you pin a photo because you look good; maybe it commemorates an achievement; maybe it's a blurry photo of a croissant you posted back in 2012. If profile stalkers are going to judge your profile anyway, you might as well put your best foot forward.
The rise and fall of the gallery-like grid — The artful grid-lay has been such an integral Instagram feature: There's no equivalent on other major platforms. The aesthetic grid is so important that some people will post cropped portions of photos that looked bizarre in your feed but fit together like a puzzle to make a complete portrait in the grid. With the rise of ephemeral Stories, the grid became a museum for Instagram superusers to immortalize the most beautiful or important moments. As Instagram continues its transition into a "video app," it's pushing users away from making carefully-constructed grids and instead encouraging streams of indiscriminate content.
If you're interested in pinning a post to your profile, simply:
Select one of your posts (Reels work too.)
Tap three dots in the upper right.
Tap "Pin to your profile."
And then it'll be pinned! In your grid, the pinned posts will have a little white thumbtack in the corner, similar to pinned posts on Twitter and TikTok.