Tech
Hands-on video shows purple Samsung Galaxy Z Flip foldable flipping open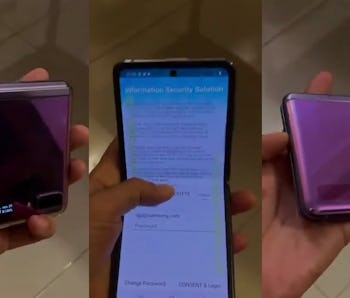 Leaker and concept artist Ben Geskin just spoiled Samsung's upcoming Galaxy Z Flip with a 19-second video showing a prismatic purple version of the foldable phone opening up. On Groundhog Day and Super Bowl LIV, too. What a great Sunday!
Confirms all the leaks — The video is short, but shows off the phone from all angles and confirms literally everything we know about the Galaxy Z Flip. Every leak checks out. There's a tiny screen on the outside and a dual-camera system. On the inside, there's a hole punch selfie camera.
Looks chunky — The only thing we don't know yet is how thick the Galaxy Z Flip will be compared to Motorola's Razr, which launches on February 6, but is arriving early for some customers. We can see the profile of the Z Flip for a few very brief seconds and there does appear to be a gap when it's folded up just like on the Galaxy Fold.
9 more days to wait — Samsung is expected to announce the foldable phone at Unpacked on February 11 along with the Galaxy S20. Input will be live at the event in San Francisco to bring you everything Samsung announces. In addition to the Galaxy S20 and Galaxy Z Flip, Samsung might unveil its own version of AirDrop for its devices.