Tech
Asus' new OLED ZenBook comes with Intel's elusive Arc GPU, new logo
The ZenBook Pro 15 Flip OLED will feature Intel's Arc A370M, while the ZenBook S 13 OLED will have all AMD specs.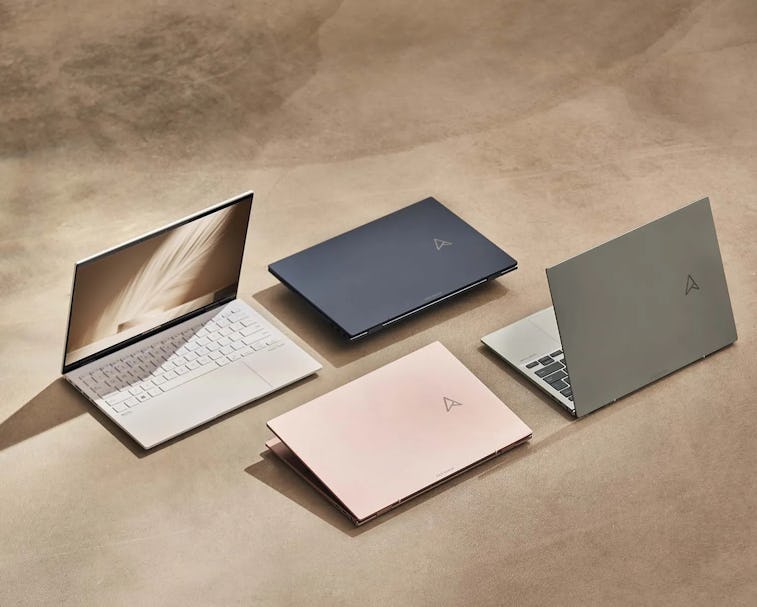 Asus
Asus revealed two laptops with OLED displays, one powered by Intel and its new Arc GPUs, and the other with AMD. There's even a new logo, to boot.
Asus has been leaning heavily into OLED displays for their laptops, previously introducing the ZenBook 17 Fold OLED during CES 2022 that had a large, foldable OLED display. If that's a little too experimental for you, the new ZenBook S 13 still gives you an OLED display but in a more traditional laptop format. If you are looking for some two-in-one capability, the ZenBook Pro 15 Flip OLED also lets you flip it into a tablet.
If you were looking to get your hands on the new Intel Arc GPUs that were revealed nearly a month ago, Asus' offering might give you a better shot. Intel initially said that the Arc Series chips would be ready for preorder with the Samsung Galaxy Book 2 Pro, but it turned out that these would only be available in South Korea.
Intel or AMD? — The ZenBook Pro 15 Flip OLED will be powered by Intel's 12th-gen mobile processors and up to the A370M from Intel's Arc lineup. The flippable laptop will have a 15.6-inch screen offering a 2.8K OLED display, but with a smaller 16:9 aspect ratio. At least Asus went with a 120Hz refresh rate for its 15-inch model. The ZenBook Pro 15 Flip OLED will also have up to 1TB of storage and up to 16GB of LPDDR5 memory. Asus included two Thunderbolt 4 and a USB-A port alongside an HDMI port and a headphone jack for the new Flip laptop.
If you're not looking for any flippability or foldability, the ZenBook S 13 OLED offers a very sleek design with no gimmicks. The 13.3-inch screen also has a 2.8K OLED display, but it's in a 16:10 aspect ratio and is a touchscreen. Asus went with AMD to power the ZenBook S 13 OLED with a Ryzen 7 6800U that includes an integrated graphics with a Radeon 680M. You can build the 13-inch laptop with up to 32GB of LPDDR5 memory and up to 1TB of SSD. Asus opted against USB-A ports for its smaller laptop, but it has three USB-C ports and a 3.5mm audio jack. The much slimmer laptop weighs in at 2.2 pounds, mostly due to its magnesium-aluminum alloy chassis.
The wait continues — If you've been waiting for a chance to try Intel's Arc GPUs, you might have a better shot at it with the Asus's 15-inch offering. Unfortunately, Asus didn't reveal any release dates or pricing for either model. The only information we know is that the ZenBook 13 S OLED will come out in a variety of pastel colors, including blue, green, beige and white. While we don't know the prices just yet, we can at least make some assumptions based on the previous models. The former ZenBook Pro 15 OLED goes for $1,400 while a previous 13.9-inch OLED Asus laptop costs $1,700.