Style
Kanye and Adidas Yeezy's knit basketball sneakers are back in blue
Basketball season may be nearly over, but you can still ball out in the "Slate Azure" BSKTBL Knit.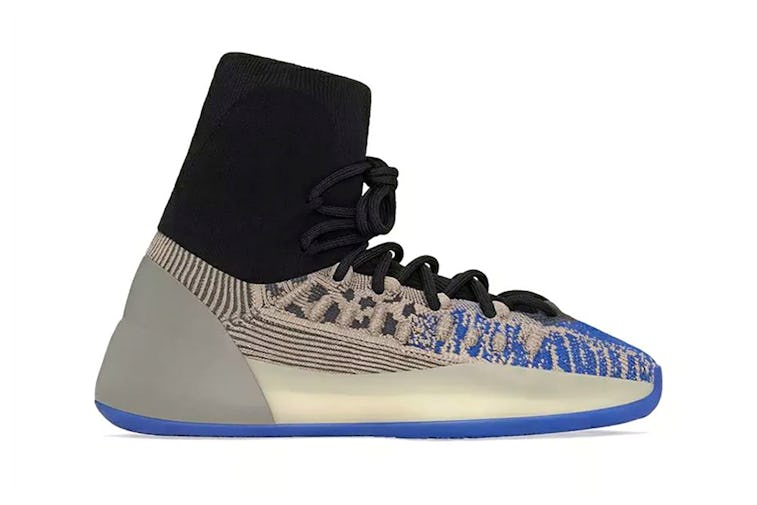 Adidas Yeezy
Basketball season isn't over for Adidas Yeezy. The Kanye-led label plans to release its BSKTBL Knit sneaker this week, now dressing its mixed knit upper in tan and royal blue. An elongated black collar, reflective heel counter, and solid blue outsole finish off the court-ready shoes.
The BSKTBL Knit first released at the tail end of 2021, outlining a hopeful revival for Adidas's basketball division, which has slumped over the past few years. Yet even Yeezy hype doesn't seem to have helped: The label's first-ever basketball sneaker, the Quantum Basketball, was widely snubbed by athletes and hypebeasts alike, while the BSKTBL Knit currently resells well under its $300 retail price. Pairs can be found for as little as $126, although it's worth noting a new release and color scheme could slightly raise the shoe's value.
Looks (and feels) baller — Where hype is lacking, performance features could compensate. The BSKTBL Knit combines the reinforced ankle of the Quantum with the knit upper of the hyped Yeezy 350 v2 sneaker, making for a supportive yet sleek silhouette. Underfoot, Adidas Boost cushioning lines the midsole for extra comfort, especially for those actually shooting hoops in the sneakers.
Adidas Yeezy
Adidas Yeezy
Adidas Yeezy
A blue "Slate Azure" shade covers the shoe's toe box and outsole as the knit upper takes on a light tan color palette. Signature details like a black elongated ankle collar, matching black laces, and reflective heel caps — all seen on the initial BSKTBL Knit — finish off the sneaker.
Cop now, or later — Chances are you'll be able to secure the "Slate Azure" BSKTBL Knit with ease when pairs drop on June 10. The sneakers will be available via Adidas's Confirmed app for a hefty $300 — but if you're willing to wait a bit for your kicks, resale prices will likely be more appealing.
As previous BSKTBL Knit releases have shown, hypebeasts (and subsequent resellers) aren't necessarily looking for a performance sneaker, meaning demand won't be as high as other Yeezy releases. You could be walking away with a pair of the basketball shoes for under half their retail price — a much better way to ball out, in our opinion.