In on the joke
What is ironic fashion, and why is TikTok so obsessed with it?
From mismatching prints to bold graphic tees, tacky is the new trendy.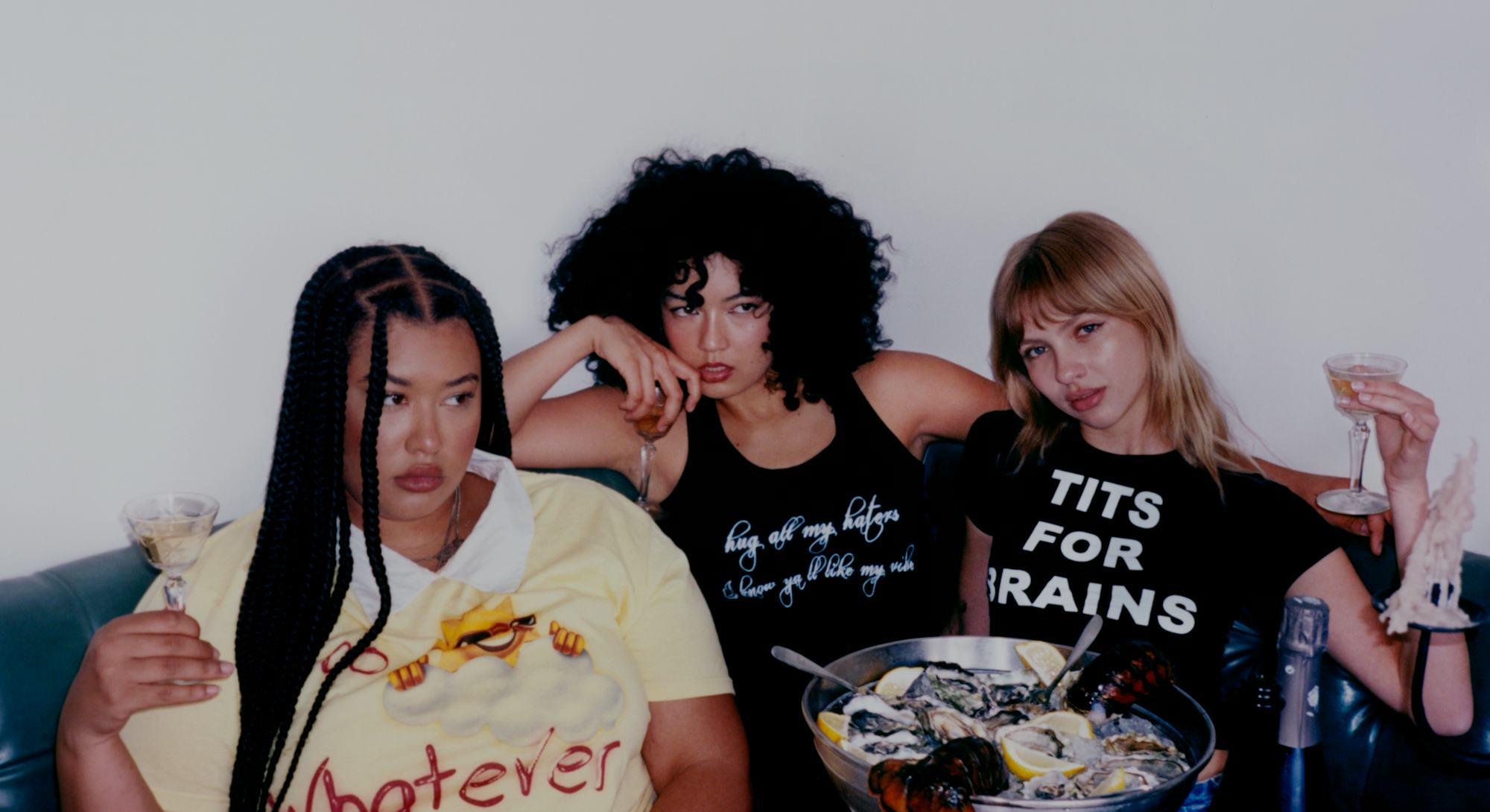 OGBFF
What you're wearing isn't ugly, cheesy, or cheap — it's just ironic.
Whether it's a cheeky graphic tee, Canadian tuxedo, or Nickleback T-shirt, wearing something universally recognized as tacky has become as much of a power move as wearing the hottest Nike or Yeezy sneaker. The untrained eye may not understand your outfit, but you and your friends will. As they say, if you know, you know.
That expression is what made streetwear cool — but with once-niche styles saturating everything from Instagram to TikTok, it seems too many people are in the know. Now, in response to streetwear's evolution from exclusive to mainstream, a handful of consumers have narrowed their style down to niche pieces not found on hypebeast celebrities or leak pages. There's demand for apparel that'll make the average person stop in their scroll.
In turn, brands have debuted their best anti-fashion fashion looks: Balenciaga has turned Crocs into three-figure footwear, Vetements has transformed work uniforms into popular streetwear, and Moschino is currently taking fashion inspiration from clowns. Pieces we might usually wear while no one is looking are now front-and-center on runways and social media.
In on the joke
On TikTok and Instagram, ironic fashion routinely draws views and likes, another selling point for the styles. Bold graphic tees seem to attract the most attention — mostly positive — in large part due to the influence of the brand OGBFF (otherwise known as Your Original Best Friend). The label, run by Los Angeles-based duo Lauren Schiller and Angela Ruis, has developed a cult-like following with tees that read "hot person at work," "tits for brains," and "Jesus saves, I spend."
Schiller and Ruis launched their e-commerce site last year after initially selling their tees more casually to friends and on Depop. Both note their designs were originally created for only the two of them to wear. One night, the duo opened up a Photoshop session over Taco Bell, a regular feast for the friends, and decided to make a graphic that was "funny enough to put on a T-shirt," according to Ruis. She already owned a garment printer, so the two got to work and created their first tee, which read, "Back off I have an extremely crazy best friend; she has anger issues & needs a therapist; treats me like a queen; don't flirt with me."
"Anything that is ridiculous and funny gets put on a T-shirt."
After Schiller and Ruis posted photos of themselves wearing the shirt, messages started to pour in on Instagram with people requesting to purchase. What began as a joke between the two friends developed into an online business that now boasts more than 60,000 followers across Instagram and TikTok.
OGBFF now offers a range of tees, skirts, tanks, and swimwear — each emblazoned with a satirical design. If you're in your flop era, the brand has a shirt for that; if you're a niche internet micro celebrity, it has a shirt for that too. And if you're hot, they have multiple shirts for you, including one that says, "ironically hot."
Most of OGBFF's designs are inspired by conversations between its founders or their friends. "Anything that is ridiculous and funny and should be put on a T-shirt gets put on a T-shirt," Schiller tells Input matter-of-factly. Her personal favorite, in another strike of irony, is the "flop era" tee. "I love how simple it is. It's just hilarious," she says. "It's my mom's least favorite because she's like, 'Why would you wear that?'"
Out there
OGBFF / Rosemary Blake
OGBFF / Rosemary Blake
Photographer Rosemary Blake — who shot an OGBFF campaign for Paper Magazine — lives and breathes ironic fashion and compares the style to a quote from Cesar A. Cruz: "Art should comfort the disturbed and disturb the comfortable." Her favorite tastefully tacky pieces, besides a "Hot Person at Work" OGBFF tee, range from an "ugly" western cowgirl vest to a McDonald's jacket covered in McFlurry graphics. For Blake, there's an appeal in wearing something that will make others laugh or feel slightly uneasy.
Like her photography style, which boasts expressive and minimally edited images, Blake says ironic fashion is about not taking life too seriously. "When I'm dressing up, I think of a character," Blake says. "Whether I want to be a bimbo or a cowgirl, I'm going to lean into it all the way." On her TikTok account, which boasts over 60,000 followers, Blake can be seen channeling a range of looks from "cheetah girl" to Adam Sandler.
"I used to put so much pressure on myself to live up to some standard I created in my head," Blake says. Through ironic styles, however, she's able to exaggerate her sense of self — and that's what Blake thinks fashion should really be about. "It's an art form that allows you to be something you're not," Blake adds. Mismatching prints and bold graphic tees are just another way to boost your confidence — and if it's not there, use the pieces to fake it till you make it.
Put that on a T-shirt
Sydney Carlson
Paulina Rosil
Sydney Carlson
Unbridled confidence is what influences Paulina Rosil, who began selling her '90s and Y2K-inspired tees in 2019 as a freshman in college. Like the OGBFF founders, she had no intention to sell her designs, but the following year she started her namesake business. Now a junior, Rosil has nearly 5,000 followers on Instagram.
"I like to work with funny stuff that's really out there," Rosil says. Most of her designs have an "I don't care attitude," taking inspiration from early aughts icons like Paris Hilton and Britney Spears. The aesthetic clearly resonates with notable fashion figures of today.
Despite Rosil's smaller platform, influencers including Sydney Carlson and Stassi Karanikolaou have adopted her ironic tees. Designs range from shirts emblazoned with phrases like "Mother F*cker" to "I <3 fat blunts." Another, reading "I <3 doomed relationships," is Rosil's first-ever design and remains one of her best-selling.
Not everyone has the guts to wear such designs, says Rosil. "Not everyone's going to walk down the street wearing a shirt that says 'I <3 sluts;'" it takes a specific type of person. Rosil's seemingly niche designs separate their wearers from everyone else with an air she describes as "just fuck it."
Ironic fashion, including Rosil's tees, is about feeling yourself to the fullest. Abandoning mainstream styles in exchange for making a statement gives people a sense of freedom. Their looks can be whatever they want without being dictated by external standards. Brands like Rosil's and OGBFF are pioneering self-aware style, and more and more people want to be in on the joke.
Isn't it ironic?
For fans of OGBFF, there's a casual and accessible appeal to ironic style. It feels unedited and inviting, especially for people who feel excluded from the fashion industry to begin with. Schiller says that while the brand's graphics are the main selling point, OGBFF also has a sense of being approachable. "It's literally just two girls making T-shirts," she says, noting that up until two months ago, she and Ruis were still working out of a bedroom.
According to the two friends, someone who wears OGBFF is "someone who's the funniest person in the room but in no rush to prove it." You want to get to know that person, Schiller says, a statement made even stronger by the list of people who have flexed the brand. Influencers Addison Rae, Devon Lee Carlson, and Emma Chamberlain have all worn OGBFF pieces on multiple occasions, a phenomenon Schiller and Ruis say they manifested themselves. "Before Lauren and I had started the brand, we made a short list of people we'd want to see wearing it," says Ruis. Both Carlson and Chamberlain were on the roster. Just weeks later, the social media stars promoted OGBFF to their millions of followers. "We're very powerful manifestors," Schiller says.
OGBFF
OGBFF
Devon Lee Carlson
Support from such influential people only adds to its appeal without taking away its approachable aesthetic. Regardless of status or follower count,"We all just have the same sense of humor," Schiller says. That connection is exactly what OGBFF stands for: "The concept of the brand is rooted in friendship," Schiller adds. "Our name was initially 'your original best friend,' but OGBFF stuck."
And it doesn't seem to be going anywhere soon. As OGBFF, Rosil, and Blake prove, tacky fashion is more than a physical product — it's a way to express your individuality or embrace a character you resonate with. "It's really not that serious," says Blake. "That's the point."