Style
Under Armour built this running sneaker specifically for female feet
A secure heel and better arch support differentiate the shoe from the average men's model.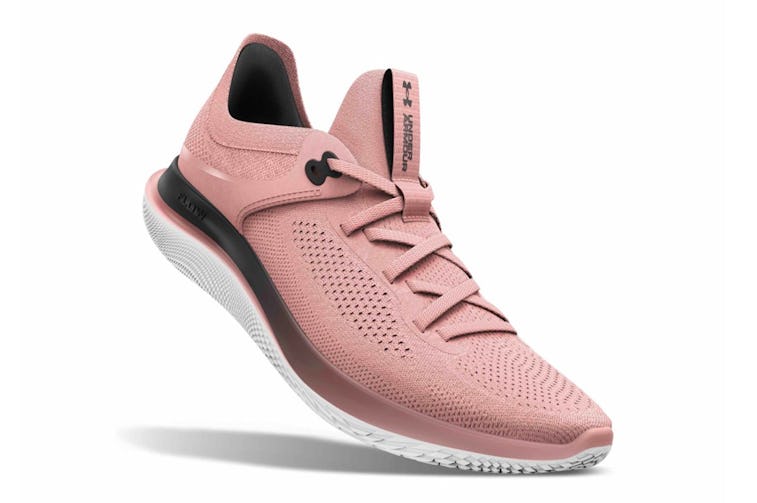 Under Armour
The sneaker world can be as exclusive as the shoes it revolves around, especially if you're a woman. There's a serious lack of women's sizing in sneakers, and an absence of female designers and collaborators makes it hard to find shoes specifically created by women for women. Brands have begun to notice the market deficiency — more notably, the profit they're missing out on — but there's still a long way to go for women in the sneaker space.
Under Armour is taking a step in the right direction with a new running shoe built specifically for women. Called the "Flow Synchronicity," the sneaker has been designed to fit, support, and complement the natural shape of a woman's foot. While the average running shoe is built for a man's foot, additional support at the heel and arch — where women's feet differ the most from men's — helps the Under Armour sneaker fit better than most.
Go with the Flow — Finer technical details add to the running shoe's appeal. A flexible micro-knot upper moves in motion with each running stride as a heel-to-toe foot-conforming design offers cushioning for a comfortable and supportive running experience. To keep the "Flow Synchronicity" sneaker as lightweight as possible, UA Flow technology replaces a traditional heavy rubber outsole or adhesive, providing traction on running surfaces without the extra heft. On its website, Under Armour says its Flow feature gives runners optimal ground feel while also offering "great energy return, amazing consistency, and reliable durability."
In building the "Flow Synchronicity" sneaker, Under Armour's team studied prototype wear and 3D scans to better understand the difference between a man's and woman's foot. Feedback from female testers — as well as studies of their foot shape, proportions, contours, and sensitivities — then helped inform the final design. You can try out the innovative kicks for yourself: Pairs of the "Flow Synchronicity" are available now at Under Armour's website for $140.
True inclusivity — Under Armour's women-focused sneaker arrives after others, including Adidas's Ultraboost 22 running sneaker. Designed by and made for women, the shoe was created with a fully female design team, female product developers, female testers, the Adidas running community, and even an online anatomy database of 1.2 million foot scans.
Like Under Armour's own running sneaker, the Ultraboost 22 is heavily researched to aid female runners, but its inclusion of all-women teams truly makes a difference in the sneaker space. The more women there are behind the scenes, the more female consumers are spoken for — meaning it won't take decades to create the next women-specific product.