Style
Shocker: Trophy Room's Jordan 1 'Freeze Out' drop was a complete joke
Doing little to ward off accusations of "backdooring."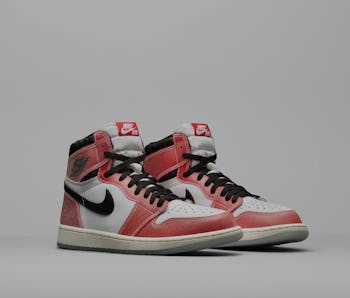 Nike
Trophy Room's raffle for its "Freeze Out" Air Jordan 1 collaboration went live this morning, and it's already marred with problems.
Numerous Twitter users have reported that their email entries have failed to be delivered to Trophy Room's address, as indicated by an automatic response from Google. Input submitted its own attempt and indeed received the same email indicating Trophy Room's account is either full or receiving too many emails in the span of an hour.
Given the limitations of a Gmail account, opting for an email-based raffle was clearly a poor decision by Trophy Room — and one that prevents a large amount of sneakerheads from even having their name thrown into the hat. The fiasco only increases scrutiny toward the boutique, which is owned by Michael Jordan's son Marcus.
Trophy Room has announced it will reopen the raffle from 12:45 p.m. to 1:45 p.m. ET, "due to the overwhelming response." How the boutique couldn't have seen such a rabid appetite for its sneakers is bewildering, as is the expectation that its inbox won't simply have the same problem once again. Trophy Room also offers no instruction for those whose emails were bounced back. Should they try again or were they able to be recovered?
Accusations of foul play — Before Trophy Room even officially announced release details for its Air Jordan 1, vast quantities of the shoe were seen in possession of resellers through social media. This pre-release hoarding is a common sight ahead of high-profile sneaker drops, and it's no less dispiriting every time it happens.
Because Trophy Room has controlled the sneaker's release, at least thus far, the boutique has been accused of engaging in a process known as "backdooring." The term refers to retailers bypassing a formal release process and selling pairs to friends, sometimes at an increased price.
If Trophy Room did indeed "backdoor" its latest Air Jordan collaboration, it would be particularly foul because of its owner's privilege. Money can't be an issue for Marcus Jordan, who goes by @HEIRMJ on social media, and the boutique was given a fast track to collaborations despite only opening in 2017.
Why does Nike allow this to happen? — Nike should be embarrassed over the bungled raffle, but then again its own SNKRS app is riddled with its own issues.
The sportswear giant has seemingly done little to combat the practice of "backdooring" as well. If Trophy Room has skirted its own release process to give vast quantities of its sneakers to friends, Nike needs to crackdown. Otherwise, what little faith sneakerheads have in the system will only get worse.
To make matters even more laughable, Nike just randomly dropped its Freeze Out AJ1 as "Exclusive Access" on its SNKRS app — though, rumor has it (no pun intended), the brand only sold about 200 pairs. Well done, Trophy Room and Nike.