Style
Tombogo and Saucony's 3-in-1 sneaker transforms into a clog and slipper
The unisex design is extremely versatile.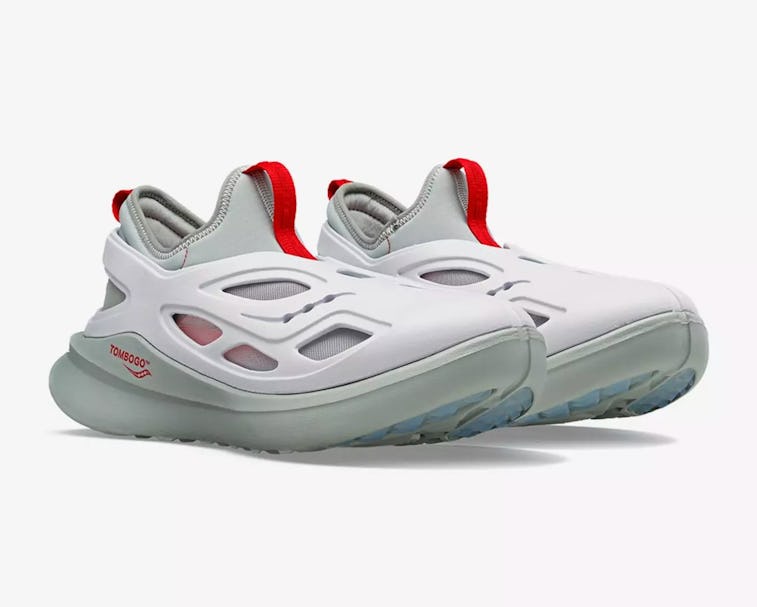 Tombogo
Tombogo and Saucony know the only thing better than one pair of sneakers is a pair that transforms to three. Together, the two brands created "The Butterfly," a unisex silhouette that breaks into a sock-like liner and an outer protective shell. The pieces can be worn individually as their own shoes or in tandem.
Disassembly has been top of mind for brands (and consumers) seeking the most out of their gear. Nike recently debuted the ISPA Link and ISPA Link Axis, two glueless models meant to be taken apart and recycled. Darryl Matthews, the brand's VP of footwear design, told Input that the shoes' ability to break apart allotted them a smaller carbon footprint and longer life cycle. The sneakers' removable components also make room for customization — similar to the Butterfly's styling opportunities — allowing customers to become what Matthews calls "co-creators."
Break it down — A comparable sense of adaptation lives within Tombogo, which has previously released pants with convertible cargo pockets and hats with storm hoods. The brand's collaboration with Saucony was initially unveiled during Tombogo's FW22 show at Paris Fashion Week, an event as futuristic as the shoe itself. Looks from the brand's collection were displayed by a holographic device alongside a live in-person show. Tommy Bogo, the designer behind Tombogo, told Hypebeast he wanted to "break out of the conventional traditions" of a fashion week show, an idea that applies to his designs too. Bogo considers the Butterfly "outerwear for creative exploration," he added.
Tapping into demand for multi-functional gear, the Butterfly combines protection and comfort to make a progressive sneaker. Its liner offers a lightweight, breathable slipper while its rubber shell acts as a versatile treaded clog. The former is rendered in gray with hits of bright red — akin to Prada's Linea Rossa line — while the latter takes on a clean white look complemented by a gray sole, with a shape similar to Crocs or Yeezy Foam Runners.
Tombogo and Saucony's Butterfly sneaker is set to debut later this year. A price has yet to be announced for the multi-functional sneaker, although consumers should keep in mind that they'll be getting three shoes for the price of one.