Style
Supreme's Nike Air Max 96 lets you show off your pretty little toes
Dropping in camo and two other colors.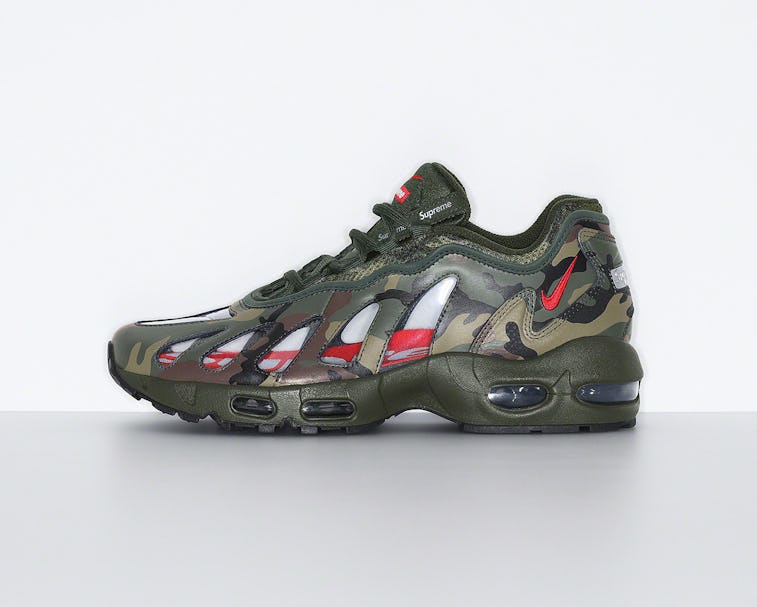 After leaks first surfaced midway through April, Supreme has officially confirmed its latest Nike collaboration. The New York City streetwear brand loves plucking more obscure sneakers from Nike's archives, and this time it's the plucked the Air Max 96 — which has, unfortunately, been overshadowed by the two iconic sneakers that bookend it, the Air Max 95 and Air Max 97.
Under Supreme's stead, the 25-year-old sneaker has been given transparent quarter-paneling that provides a window straight through to your feet. And if you're preemptively fretting over which socks to wear with such a revealing shoe, Supreme and Nike are also dropping complementary socks — but they aren't complimentary.
The Air Max 96 will drop in three color schemes, highlighted by camouflage. A more subtle black variant will also be available, in addition to a silver that stands out without the guise of blending in.
Zooming in — Supreme red accents are the through-line in all three color variants, including Swooshes near the heel and on the tongue, as well as a Box Logo insole that can be seen from the outside when the sneaker isn't being worn. Another Box Logo appears in a reflective and raised badge on the heel, and the brand name appears once again in ribboning that runs down the length of the tongue.
More reflective detailing comes in a 3M binding separating the tongue and collar from the rest of the upper. And those with a fondness for the tactile will appreciate the juxtaposition of a smooth leather used for the upper with pebbled leather on the heel overlay.
To complete the look, the Supreme-approved Nike crew socks come in red or black with the latter's name running down the back of the leg and onto the soles of the feet. No logos can be seen when wearing them with the kicks, though, making the socks an optional but ultimately superfluous addition.
Supreme
Supreme
Supreme
Supreme
Get your kicks this week — In keeping in line with the brand's release cycle, the Air Max 96 will drop through in stores and on Supreme's website at 11 a.m. ET this Thursday, May 6. There's also a good chance one or two of the color variants release later through Nike's SNKRS app, giving you two shots at paying retail (TBA) instead of the inevitably hiked-up resale prices that'll follow.
Supreme's Air Max 96 will inevitably have its detractors, but you have to hand it to the brand for continually shining light on some of Nike's less-heralded sneakers. Box Logo or not, the Air Max 96 is an underrated pair of kicks.