Style
Supreme's luxury Airstream Trailer arrives just in time for summer
The 22-foot mobile home is estimated to retail around $90,000, or the cost of approximately 1,800 Box Logo tees.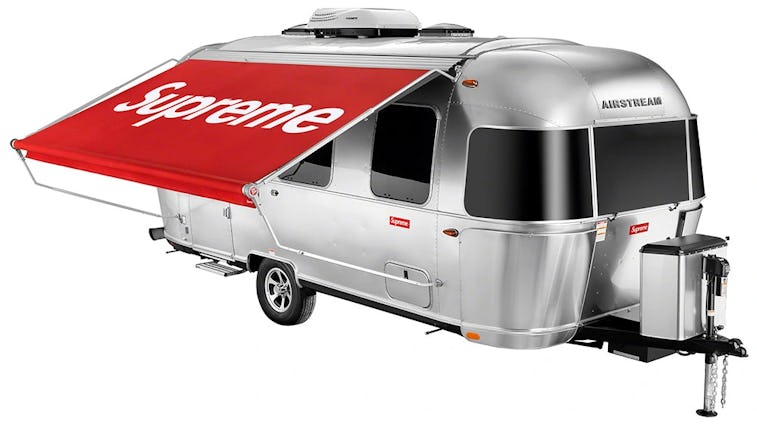 Supreme
Supreme is fully tapping into the luxury camping scene with its Airstream Travel Trailer, a 22-foot single-axle trailer capable of sleeping four hypebeasts. Originally previewed in February, the aluminum mobile home comes with a shower, kitchen, bathroom, and of course, ample closet space for Supreme x Nike grails. The trailer, made in collaboration with motor home company Airstream, is estimated to retail around $90,000 — approximately 1,800 Box Logo tees, in Supreme perspective.
Of course, the shiny silver mobile home comes with no shortage of its own Box Logos. The recognizable red motif can be found throughout the trailer's interior and exterior, including a retractable "Bogo" awning. Built-in red leather "Supreme" seating accompanies custom hardwood floors, a Moen faucet — found in both the kitchen and bathroom — a vanity, stove, convection oven, and shower with a built-in seat. A convertible dinette allows for additional sleep space outside of the main 54 x 80-inch mattress, as features including a stereo, HDTV, DVD player, and climate control ensure the most comfortable mobile living space possible. This ain't your average trailer — as if we could expect anything less from Supreme.
Take your Supreme to-go — As with all larger Supreme pieces, a limited number of mobile homes will be available for purchase. Fewer than 50 are expected to retail, although the trailer's estimated cost — no less than the Airstream's average cost of $50,000 and reportedly closer to $90,000 — should keep demand to a minimum. That said, you'd have to be a pretty huge Supreme fan if you can afford to drop that kind of money on a branded trailer instead of opting to stay at a luxury resort or using the cash to put a down payment on a permanent home.
For the extreme Supreme enthusiast, however, the Airstream Travel Trailer provides a novel opportunity to display decor from drops past, most of which falls into the ​​tchotchke category. The mobile home's ample kitchen space could showcase anything from the brand's talking Chucky doll to its more recently unveiled Burberry skate deck. Supreme's previously released lounge chair would be the perfect addition to the mobile home's outdoor space, too.
Book your trip now — Supreme's Airstream Travel Trailer drops this Thursday, June 2 at 11 a.m. ET, although it's not clear if it will be available through the brand's website and/or physical locations. The mobile home will arrive alongside more affordable (and ridiculous) grails like a woven area rug, a kayak, a hand-painted porcelain mirror, and a box of branded Kraft macaroni and cheese. There's truly something for everyone — and every price range.
Watch: Extreme Reviews