Style
These sustainable sneakers are made with a new kind of fish leather
Turning invasive species into sustainable leather alternatives.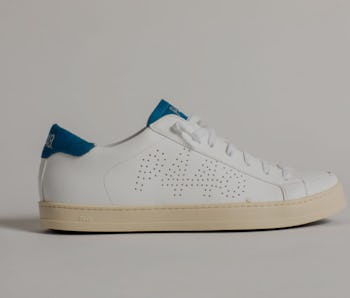 Inversa Leathers
A sneaker made from lionfish leather may set off an animal rights activist, but it's actually doing marine wildlife a favor. The ocean predator, responsible for killing 79 percent of baby reef fish, is now being used by Inversa Leathers — a Floridian start-up company founded by scuba divers — as a leather alternative for its sneakers.
Predator becomes prey — In collaboration with Italian sneaker brand P448, the Inversa lionfish sneakers will release in five different colors: red, pink, blue, silver, and black. Its base is white, perforated with P448's signature branding, and fitted with the dyed fish leather on the heel. Each pair is equivalent to one lionfish removed from the oceans, thus saving thousands of native species.
Inversa
Inversa
Inversa
Inversa
Inversa
Sourced by responsible divers, no part of the fish is wasted either as Inversa's sister company Saltino Seafood sells its fillets to restaurants and the remainder is used for bait and oils. The skin is then shipped to tanners in Ohio where it's dyed using eco-friendly practices.
Each lionfish hide takes about less than a cup of water to tan and measures out about 55 square inches of material on average. Although the leather was used for small wallets and goods at first, partnering with knowledgable brands allows Inversa to fully optimize the material, like with the sneakers.
How did they get there? — The lionfish, native to coral reefs in the South Pacific and Indian Oceans, was discovered in the Caribbean and up the East Coast in the 1980s, though it's unclear whether it was led there on purpose or on accident. Regardless, the effects are detrimental to coral reefs as the invasive species is wiping out native fish and disrupting food chains.
Deepika Nagarajan, chief marketing officer for Inversa Leathers, told WWD it was time to "step up to the responsibility" of the "human-caused problem" and create a "cool fashion product that is also saving the planet." The brand is also gearing up to announce another collection soon using a new material sourced from other invasive species.
Given that there's no shortage of lionfish — females lay up to 25,000 eggs every few days — the start-up could open the door for other brands to follow suit. The fashion industry has already caught on to the unsustainable practice of traditional leather, tapping into other alternatives from mushrooms to pineapples.
Inversa and P448's lionfish leather sneakers will drop in a limited run on June 28. They retail for $325 and can be found at P448's new store in the Parisian department store Le Bon Marché.