Style
Nike slapped every color it thought of on this women-exclusive Dunk shoe
The "Sunset Pulse" boasts metallic, neon, and suede details.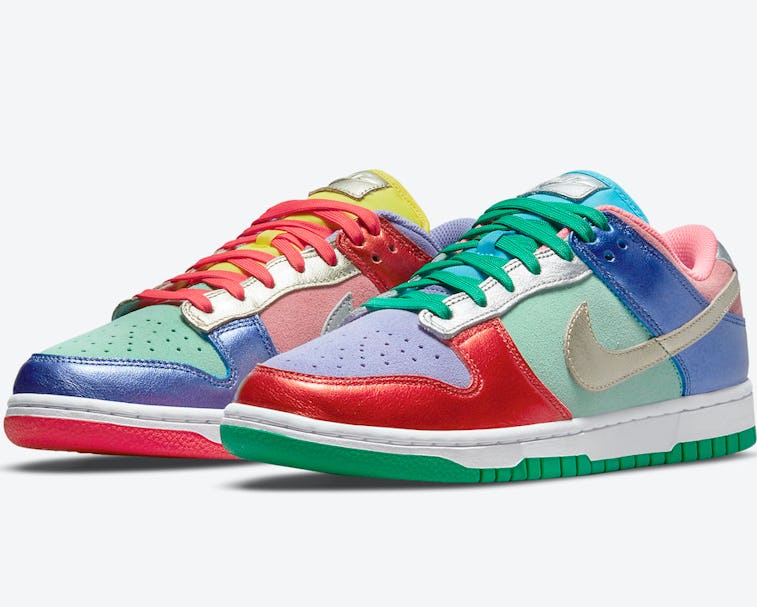 Nike has pushed out plenty of more classic Dunk designs in hopes of satiating the hype for the silhouette, but its latest model goes all out. Sporting a mismatched makeup similar to the Swoosh's "What The" designs, the upcoming "Sunset Pulse" sneaker features a rainbow of colors alongside suede and metallic details. Set to release as a women's exclusive, the Dunk Low is a playful alternative to many basic women's designs.
Here, Nike hasn't toned the classic silhouette down to pink and beige shades usually seen on women's exclusives. Instead, the brand has given women what men in the sneaker space are often crowded with — creative, one-of-a-kind designs. With the sneaker world dominated by men, women are often sidelined: There's a serious lack of women's sizing in sneakers, an absence of female designers and collaborators, and higher resale rates on smaller shoe sizes. But with its bright shades and glossy metallic overlays, Nike's latest Dunk Low isn't just eye-catching — it completely deviates from the usual basic approach to women's styles.
Metallic and mismatched — Mirroring the vibrant colors of spring and summer, the sneakers boast a mismatched design, correlating through their pastel shades and metallic finishes. Alternating between suede and glossy leather, the shoes flaunt the former across their toe boxes, quarters, and collars. Metallic details cover the overlays, taking on a shiny blue or red hue depending on whether you're looking at the left or right shoe. To contrast the polished finish, suede underlays sport pastel shades like pink, green, or lavender, adding a touch of softness to the shoe.
The most notable difference between the two sneakers is that the tongue on the left shoe has been made a bright aqua, while the right tongue sports a vibrant yellow. Mismatched laces only enhance this look, with the left laces dressed in green and the right in fluorescent pink. Underfoot, the theme carries on with the left shoe boasting the same green on its outsole and the right shoe donning the neon pink. A silver and gold metallic finish on both the sneakers' eyelets, tongue branding, heel tabs, and Swooshes helps make the contrasting designs more cohesive.
Chase the rainbow — Perhaps Nike's most colorful drop of the year, this "Sunset Pulse" Dunk Low is set to retail for $100 on May 19. While some outlets have pinned Nike's website for its launch, a SNKRS release may be more likely. With the Dunk silhouette in demand — especially as a women's exclusive — this upcoming model will probably be subjected to one of the brand's lottery-based draws. Scoring this colorful design may be as hard as scoring the pot of gold at the end of the rainbow.