Style
Nike's Halloween Air Force 1 glows in the dark and is covered in bones
A themed classic sneaker that's good enough to wear all year.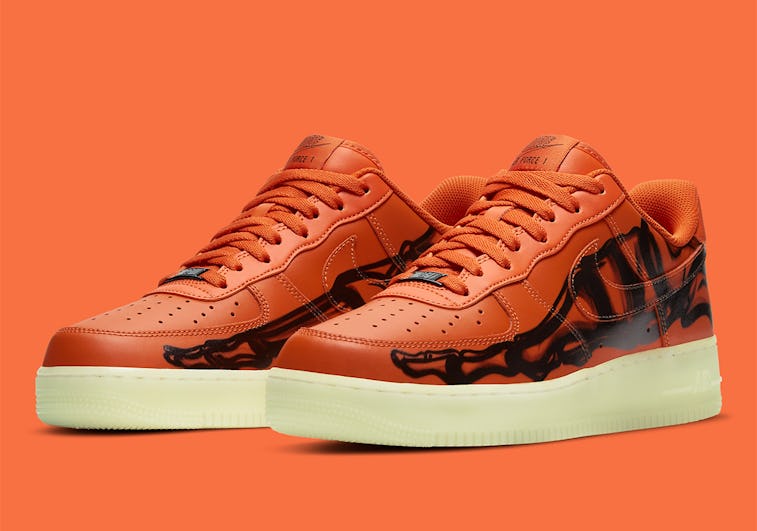 For the third year in a row, Nike is releasing an Air Force 1 Low with an X-ray effect. This year the Halloween-themed AF1 comes in a burnt orange after having already ticked the boxes of black and white. Not only does it make it more suited for Halloween with a holiday-appropriate black and orange, it should also endure as a worthwhile addition to your rotation for the rest of the year.
The detailed foot bones illustration looks like it was airbrushed onto the upper and is done on both the medial and lateral sides of the shoe. Inside, the sockliner even has a top-down graphic of the foot to complete the visual effect. Just like the first Air Force 1 in the series, which came in white, both the midsole and outsole glow in the dark (last year's black release only had the treatment on the outsole).
Bones are killer all year round — Celebrating Halloween in typical fashion can only be considered irresponsible this year, which gives you all the more reason to rock these Air Force 1s all year round. Kapital has made skeleton graphics into grail-worthy jeans and jackets, so why not carry over the idea down to your feet? As a person with no fewer than four skulls tattooed onto my skin, I have to insist that skeletons are badass.
There's also the fact that the Air Force 1 Low is the perfect everyday sneaker. Unlike an all-white pair, you'll have to put a little more thought into what else to wear these with. You should embrace this challenge and leave no room for anyone to pick a bone with your fit.
Dropping just before the Holiday — Nike just released its bangin' Día de Muertos footwear collection yesterday, and the Air Force 1 "Skeleton" is slated to follow on Wednesday, October 28. It'll sell for $130, which is pretty much the ideal price for a more lively (or deadly?) AF1. Look out for the Skelli's to drop through Nike and select retailers like Luisa Via Roma.