Style
New Balance is suing Steve Madden over its 327 sneaker imitation
The Madden shoe is a "deliberate knock-off," according to New Balance.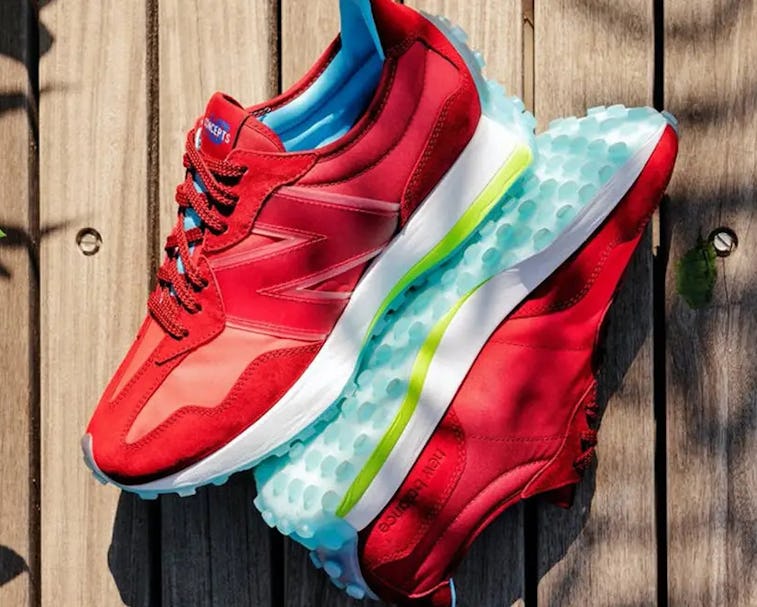 Concepts
New Balance is taking Steve Madden to court. A complaint filed Tuesday to the U.S. District Court of Massachusetts claims Madden's Chasen model sneaker from 2020 is a "deliberate knock-off intended to free-ride off the popularity of New Balance's 327."
What's the issue? — As reported by The Fashion Law, New Balance claims Steve Madden copied the look of the 327 silhouette and purposely "traded off of [its] design, goodwill, and reputation." The complaint accuses Steve Madden of engaging in design patent infringement, trademark infringement and dilution, and false designation of origin. New Balance is seeking monetary damages and injunctive relief to prevent Madden from using any designs similar to NB's.
Madden's Chasen sneaker was introduced in 2021, a year after New Balance's 327, causing NB to believe that the Chasen was a direct copycat of its popular shoe. New Balance points to the outsole and two diagonal stripes on the midfoot that skew too close to its own designs.
New Balance has had patents on the "N" and its placement since the 1970s, which, according to the brand, predates and has creative authority over Madden's diagonal stripes. Having sold "over one billion products" in the U.S. with the logo and "several million pairs" of 327s, New Balance says the Chasen could confuse some consumers and create an assumption that there's a collaborative association going on. The concern is also heightened given both brands sell their products in some of the same stores, including Nordstrom and Macy's.
Things could get ugly — The Boston-based brand also called out a different version of the Chasen without the two stripes (going for an "SM NY90" logo instead) and claims the sneaker still infringes on NB's sole patent. New Balance says Steve Madden has a history of "free-riding" other designers and having a business strategy that copies other innovative designs to "capitalize on the creativity of other shoe manufacturers."
Steve Madden has been involved in more than a dozen lawsuits since 2006 with companies including Converse, Ugg, and Rothy's. Most recently, the brand was hit by Deckers for infringing on its "Original Universal 90's Multi Colorway Trade Dress." With so many legal disputes under its belt, you would think a brand as big as Steve Madden would tread more lightly.