The royal treatment
'Bridgerton,' TikTok, and the revival of 'Regencycore' fashion
Despite its recent popularity, the regal trend has been on the rise for years — but the arrival of a new Netflix show has made it hotter than ever.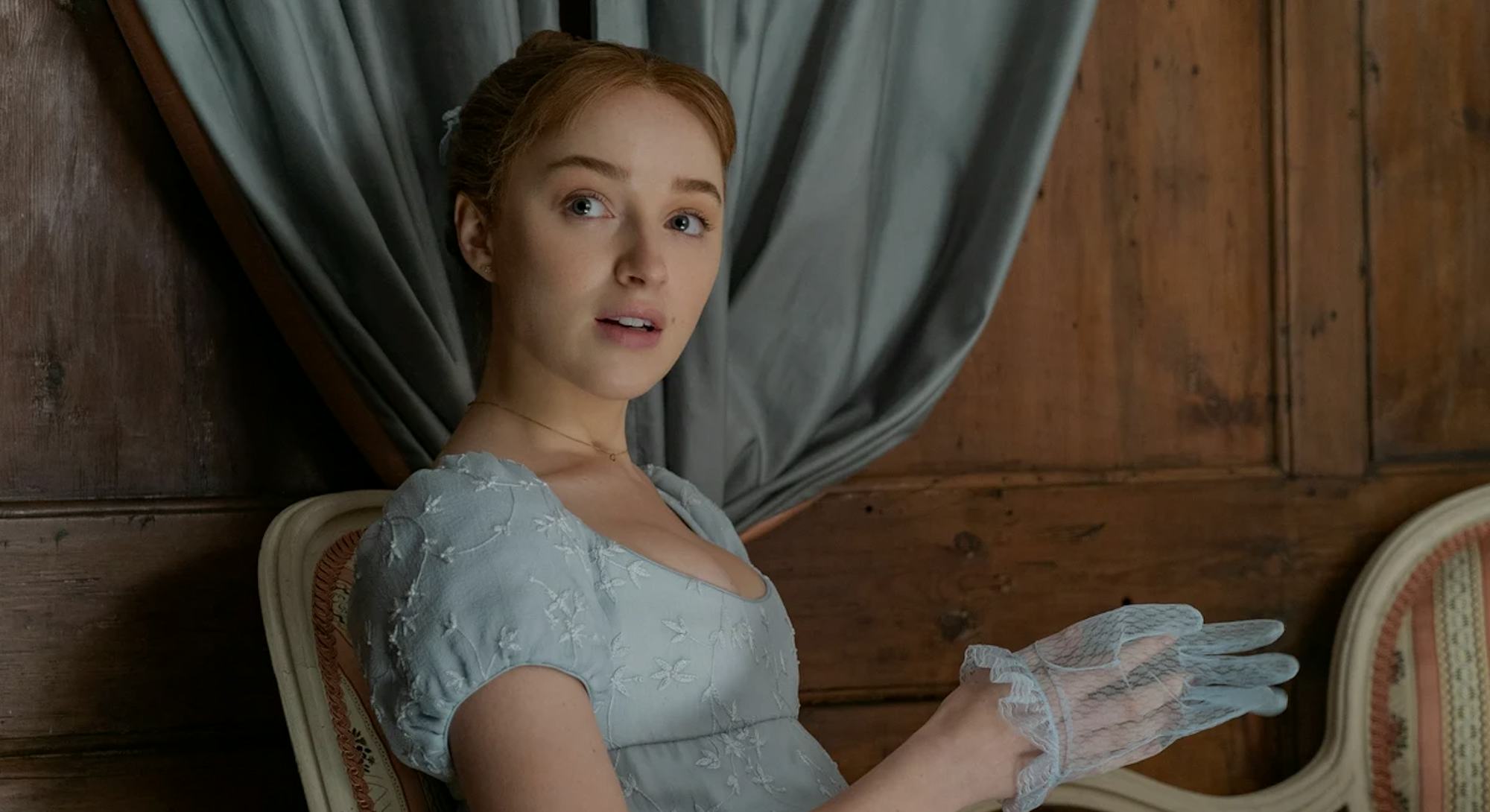 Netflix
It seems odd that, in the middle of a pandemic, fashion trends are reverting to corsets, gloves, and long skirts.
But, given these how these pieces were staples during a period of time when plagues were more common, they are more fitting today than one might imagine.
iPhones, cars, and central air aside, our current lives are easily comparable to the Regency era, which spanned from 1811 to 1820. Daily outside strolls have become a relief for most, as we spend a majority of our time cooped up inside. With extra time at home, people have turned to DIY projects such as sewing or knitting to pass the time, and others have transformed their kitchens into full-on bakeries. We're also more isolated from our friends and family than ever, leaving us with the same yearning used to pen letters back in the 1800s.
A year of dressing in sweatpants has also left us longing for the "good old days" of restricting clothing, impractical designs, and elegant accessories. These are all elements found in fashion's next obsession: "Regencycore," a trend that focuses on regal-esque, debutante style with an emphasis on delicate embellishments, corsets, longline gloves, and feminine headpieces. And since the debut of Netflix's show Bridgerton, Regencycore has gone viral.
In its first four weeks on the streaming platform, Bridgerton was watched by over 63 million households, according to global search fashion platform Lyst. Despite many viewers focusing on its steamy scenes, heat can also be found in the show's wardrobe.
Like most trends these days, TikTok also helped boost the demand for Regencycore.
Lyst reports that in the weeks following Bridgerton's release, searches for period pieces like corsets, headpieces, elbow-length gloves, and more have skyrocketed. Corsets surged on the platform by 123 percent, empire line dresses soared by 93 percent, and searches for feather headbands leaped 43 percent. "Bridgerton blue" has also become a popular color, thanks to the iconic pastel outfits worn by Daphne Bridgerton, one of the main characters of the show, who is played by actress Phoebe Dynevor.
The Bridgerton effect is real. But it isn't the only source of entertainment that brought on this surge of regal fashion. The rise of cottagecore and puffy sleeves, the lingerie as outerwear trend, and the popularity of that Lirika Matoshi strawberry dress all helped contribute, while pearl accessories and extravagant Fall '20 collections by Rodarte, Brock Collection, Christopher John Rogers, Adam Lippes, and Carolina Herrera were already setting the stage for Regencycore.
Predicting the past
Like most trends these days, TikTok also helped boost the demand for Regencycore, with creators fashioning grand ball gowns, styling modern takes on Regency and Victorian-era fashion, and naturally, making a Bridgerton musical. With videos going viral on the platform by the hour, it's safe to say the style has been endorsed.
"We don't have anywhere to be going, but we're dressing up to escape the current moment."
But, believe it or not, Regencycore was actually backed by experts over a year ago — before Bridgerton even started filming — and was heavily researched and crafted by artists, trend researchers, and even Netflix. It's true: algorithms have served you the classic, antique style on a silver platter.
Agus Panzoni, whose TikTok username is @thealgorythm, understands this concept perfectly. She's gone viral on the platform, boasting 153,000 followers, after sharing upcoming styles and personal trend research.
Even when she studied economics at Bentley University, Panzoni knew she wanted to get involved in the fashion industry. She found her ideal job at WGSN, a trend forecasting company, working as a trend researcher, but later had to leave the company due to a Visa delay — a disappointment for the Brooklyn-based Argentine. Panzoni, resilient as ever, now works in fashion marketing, and hopes her TikTok can inspire sustainable, longer-term trends.
"Right now we're seeing trends happening faster than ever," Panzoni told Input. "And we're also seeing multiple trends happening at the same time." Thanks to algorithms in apps like Instagram, Pinterest, and TikTok, users have been able to discover mainstream trends at a much faster rate, while also becoming acquainted with micro trends catered to each person's niche. Pop culture, such as Bridgerton, has played a part too, but at much more researched levels.
"Media companies, like Netflix, look into things that are trending before writing shows," Panzoni said. "When consumers show interest in something, media companies are listening — and could respond with anything from a show, new music, or fashion trends." Those brands, like Netflix, can then work together with others to make the trend more mainstream, Panzoni said. That way, shows like Bridgerton arrive at just the right moment, and are able to reel in the streams — and cash — that come with over 63 million viewers.
Historical wave
The wardrobe in Bridgerton isn't exactly historically-accurate, though. Instead, it's been altered to appeal to its 21st century audience. According to Panzoni, styles seen on the show can range from the Regency to Victorian time frame, with pieces like pearls, elbow-length gloves, and empire line dresses mixing the two eras. But the theme of escapism in Bridgerton still resonates with people who love to travel back in time but are also stuck in 2021.
"Just wear what you want — no matter how impractical it is."
"Right now we're dressing up to feel good," Panzoni said. "We don't have anywhere to be going, but we're dressing up to escape the current moment." As we approach March, we reminisce on simpler times, and apparently, more intricate fashion. Regencycore fits perfectly within that narrative — there's nothing practical about satin gloves and restricting corsets. It's all about getting dressed for yourself.
With new trends created daily, Panzoni isn't sure how long Regencycore might last. By next year, she predicts we'll be bored of the trend, but she recommends investing in regal accessories for those that are interested. "Personally, I will not be investing in an empire line dress — they're too difficult," Panzoni remarked. Glossy gloves, on the other hand (or both), are "gorgeous," she said. At the end of the day, Panzoni added, it's about expressing yourself, not dressing for what's in trend. "[That] takes the joy out of wearing clothes," she said. "Just wear what you want — no matter how impractical it is."
On the other side of the nation, in Los Angeles, Cassie Evanow has taken Panzoni's advice. She's been crafting her own designs for Evanow Studios since 2017, and her originals have been worn by big names like SZA and Bella Hadid.
But unlike most of the world, Regencycore isn't new to Evanow. In fact, she's been living the trend since frequenting Renaissance fairs in her Oregon hometown, and has a deep love for historical fashion and period pieces. Her talent for fashion design — which began in her childhood, altering her older brother's hand-me-downs — only solidified Evanow's place within the historical trend.
Evanow began the painstaking process of creating corsets in 2017, and said each piece takes her roughly 40 hours to complete. With a goal to make the fashion industry more sustainable, Evanow only uses thrifted or recycled materials, giving her products an ethical and unique look. Her designs have featured everything from recycled Nike shirts to football jerseys, and boast traditional steel boning construction.
"I decided to mesh basketball jerseys and old T-shirts with a classic 18th century corset bodice silhouette for juxtaposition," Evanow told Input.
Historically, high society in regency and baroque eras was reserved for upper class euro-ethnic groups, which were considered sweet and pure. The application of the trends today, however, now sees the baroque aesthetic alongside hip-hop culture and growing diversity efforts. "It's almost like we're taking the so-called 'purity' and exclusivity of that culture and making a statement by saying 'fuck you' to outdated societal norms," Evanow said. "Applying [baroque styles] where they were never meant to exist is artful mockery."
"Bridgerton is the bane of existence for people who love costume design."
The same could be said of Bridgerton, which features a cast rightfully more diverse than historically accurate. Evanow has deemed its costume design equally inaccurate. "Bridgerton is the bane of existence for people who love costume design," she said. "The show has lumped all these historical eras together, without distinguishing them, and used inaccurate, cheap fabrics that honestly look like polyester."
Rinse and Repeat
Of course, Evanow isn't expecting the show's costume designer to hand-sew all the pieces out of historically accurate fabrics, but she's noted a little research can go a long way. "Outlander had amazing costume design from season one to season three," she said. "You could tell how much attention went into it, and it really takes you back in time and gives you that magical experience of watching a historical piece."
As evident by Evanow's more modern designs, however, she doesn't anticipate many historically accurate pieces in streetwear. With the '90s trending, the designer anticipates styles similar to Vivienne Westwood's corsets or John Galliano's romantic silhouettes. And after a year of loungewear, Evanow said she's happy to see trends becoming more delicate and regal — especially during such a turbulent time.
Neither Panzoni or Evanow are sure what's coming next, but it's clear they'll both work to make future trends as stylish as they are sustainable. Regencycore, after all, is about making old things new again, and nothing's more outdated than unethical fashion practices.