Style
Meta's online store stocks Balenciaga, Prada, and Thom Browne
Digital clothing from the luxury labels will be available next week.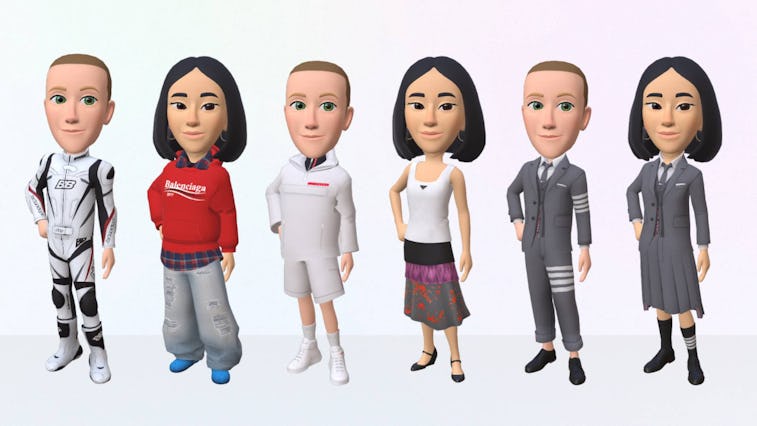 Meta
Meta is launching an online store stocked with Balenciaga, Prada, and Thom Browne pieces for its virtual avatars to wear. Designs from the three luxury brands, the first to join Meta's retail endeavor, will be available for use on Instagram, Facebook, and Messenger.
Last week, Meta founder and chief executive Mark Zuckerberg joined Eva Chen, Meta's vice president of fashion and shopping partnerships, to preview what the platform's new avatar fashion would look like. Different looks were modeled by Zuckerberg in the form of his cartoonish Meta avatar showing off a Balenciaga motorcycle suit, white jacket and shorts from Prada's Linea Rossa line, and one of Thom Browne's signature gray suits. The high-end clothing will allow Meta users to better express themselves and connect with others, Zuckerberg said in the announcement, held on Instagram Live.
"High-quality stuff" — Meta has allowed its users to create their own avatars since 2019, and has already rolled out features like free virtual clothing. The platform's next step, Zuckerberg said, will be a marketplace that offers items from a range of designers. "That way, all different kinds of creators over time are going to be able to participate and design clothing and sell it," he said on Instagram.
More luxury designers will be invited to create collections in the metaverse, added Chen, although Meta will also welcome "a lot of brands that don't exist physically [to] exist in the metaverse." After all, Meta isn't the first to specialize in virtual fashion — labels like Tribute Brand have been creating exclusively-digital digs since early 2020, designing floating pants and flame-engulfed dresses.
"To see the fashion work we're doing in the metaverse with that kind of high-quality stuff is really cool," Zuckerberg said of Meta's partnerships with Balenciaga, Prada, and Thom Browne. He hopes the platform's digital fashion marketplace will inspire designers to make clothing they wouldn't be able to materialize in the physical world — much like Tribute Brand's existing designs — something its current collaborators seem open to. "Web3 and Meta are bringing unprecedented opportunities for Balenciaga, our audience, and our products, opening up new territories for luxury," Balenciaga CEO Cédric Charbit said in a statement.
Sorry, my [digital] Prada's at the cleaners — Meta plans to expand its marketplace with additional brands soon, and the Avatar Store will launch next week in the U.S., Canada, Mexico, and Thailand.
"A lot of the dream here is to make [Meta's marketplace] accessible to anyone," Zuckerberg concluded in his initial announcement. The cost of Meta's digital designer pieces has yet to be revealed, however, and Balenciaga, Prada, and Thom Browne aren't names that usually align with accessibility. Of course, the term may mean something different to billionaire Zuckerberg.