Style
Melody Ehsani's Air Jordan 36 sneaker steals the show at the NBA Finals
Snakeskin elevates the basketball shoe to lifestyle worthy.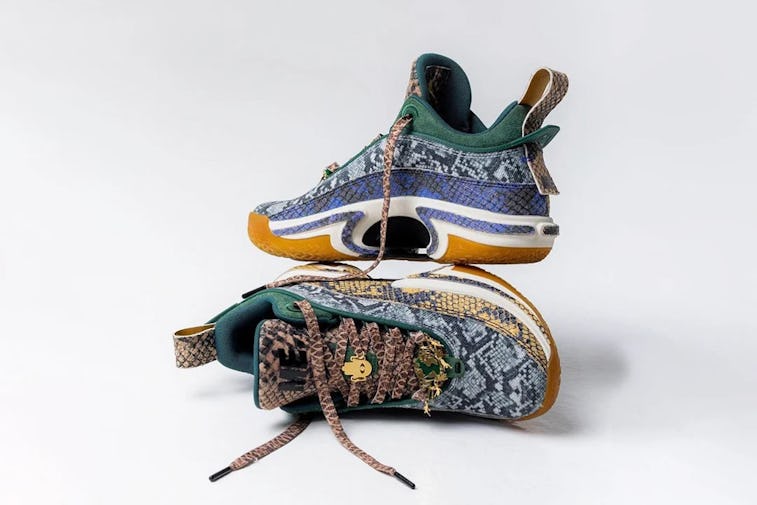 Nike
Fans nearly always hold their breath during the NBA Finals, but a different kind of anticipation was in the air when Jayson Tatum stepped out on the court during Game 2. During his warm-up, the Celtics star donned a pair of Air Jordan 36 Player Exclusive sneakers, something that wouldn't be as unusual had the pair not been covered in an eye-catching snakeskin pattern.
Designed by Melody Ehsani — a frequent Jordan Brand collaborator and current creative director of Foot Locker — the kicks flaunt a snakeskin print throughout their side panels, tongues, heel straps, midsole molds, and even laces. The pattern alternates between shades of white, yellow, blue, and beige to add dimension to the pair as hits of green suede contribute to the royal look of the sneakers.
Filled with details — Ehsani's Air Jordan 36 PE sneaker features "lots of little Easter eggs to talk about," she wrote on Instagram. The hamsa hand, otherwise known as the hand of God, appears on a golden lace charm as well as on the outsole. Each is a symbol "for protection from anything that doesn't serve your purpose," Ehsani explained.
A golden globe motif found at the bottom of the lace units features dangling gold player silhouettes and "ME" charms to tie in the shoe's exclusive theme. Further "ME" branding sits on the tongue of the left sneaker, while the other bears its usual Jordan Brand Jumpman logo. Green suede collars and piping add finishing touches to the Air Jordan 36 PE as a treaded gum outsole keeps them as functional as they are fashionable.
Inside the sneaker, an insole reads "we stand on the shoulders of greats," a quote Ehsani said pays homage to ancestors who have paved the way. Whether those relatives have helped us achieve success on the court or in the sneaker space, they're worth celebrating, according to the designer.
Not for sale — Per its name, the Air Jordan 36 Player Exclusive sneaker isn't for sale. Pairs of the kicks are reserved for Jordan Brand athletes, as well as anyone lucky enough to be considered their friend or family. Ehsani noted on Instagram she got her sneakers to all her favorite WNBA and NBA players, although she did add, "hopefully the next round will be for everyone."