Style
Louis Vuitton and the NBA have a capsule just in time for the Finals
Leather accessories for the rich and team-agnostic basketball fan.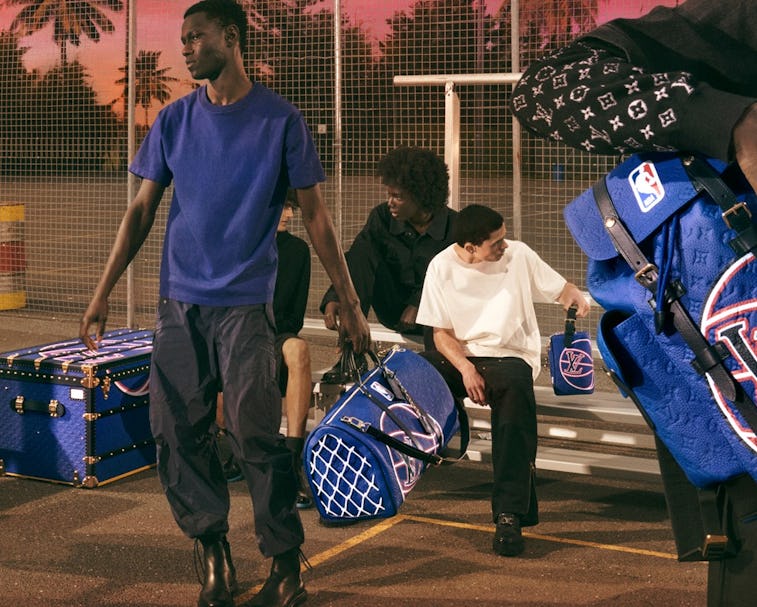 Louis Vuitton
After missing the mark on its first NBA collection in 2020, Louis Vuitton has slowly gotten the hang of what basketball style should look like. The French house is collaborating with the basketball league for its third chapter, creating a small series of luxury bags and leather goods. The collection includes a backpack, keep-all travel bag, wallet, and small duffle bag all appearing in matching bright blue leather with bold branding.
What's in store — The duffle bag sports plenty of nods to the NBA, including the league's logo on the zipper and a red, branded basketball at the center. Black hang tags add some embellishment, and white hoop netting appears at the bag's sides. A similar makeup constructs the backpack, which features the same cobalt blue, monogrammed leather, NBA logo, and branded basketball. It's secured with black straps and gold hardware and features more storage in the side pockets.
A bi-fold wallet also follows the design pattern, and the accessories are rounded out by a zippered travel pouch. A gold chain adds flair to the travel bag, and a smaller NBA logo is fitted at the bottom. Like in previous years, the French fashion house has also created a fresh "Official Travel Trunk" that bears space for the Larry O'Brien Trophy, which was redesigned by Tiffany & Co. The trunk is secured with folding doors, and details include a hand-painted "V" for victory along with the same LV basketball motif.
Third time's the charm — The accessories mark the third collection between Louis Vuitton and the NBA, a multi-year partnership that was launched with Virgil Abloh in 2020. Louis Vuitton has become known for adding its luxurious appeal to its NBA collabs — including a mini basketball hoop and another extravagant trophy case — but aside from the official capsules, the label has also added its touch to other basketball-themed items for the superfans.
Prices for the capsule fall in line with the label's high pricing, with the wallet coming in at $650, the travel bag at $1,700, the Keep-All at $4,300, and the backpack at $4,600. You can shop the Louis Vuitton x NBA accessory collection starting Thursday, June 2, on LV's website — the very same day the Finals matchup begins with the Golden State Warriors and the Boston Celtics.