Style
Kanye West is ditching his Yeezy Foam Runners for Balenciaga platform Crocs
The rapper wore the heightened rubber clogs when out to lunch with Anna Wintour.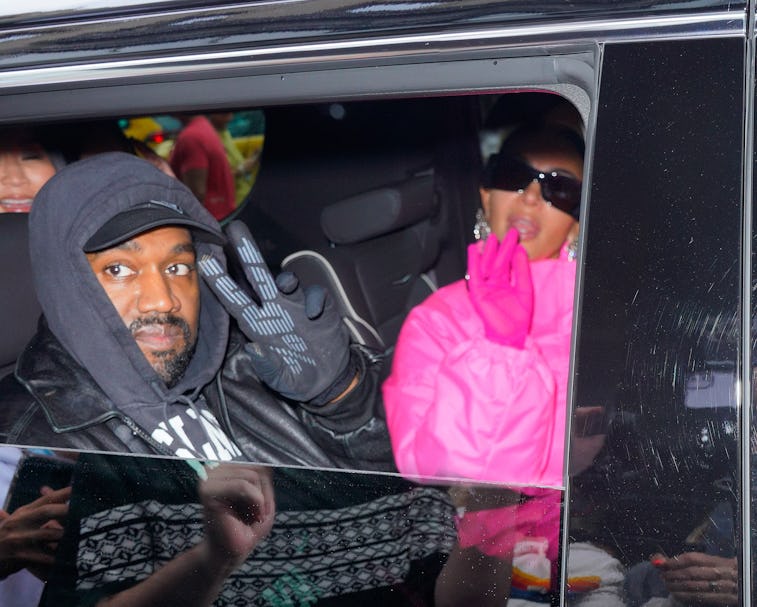 Gotham/GC Images/Getty Images
Kanye West makes plenty of erratic choices, but if there's one he's made a lifestyle (and career) of, it's weird footwear. The rapper's rubber Yeezy offerings constantly divide fans, while West himself can't quit wearing Nike despite his breadwinning line with Adidas. Yet neither the Swoosh nor Three Stripes appears on Kanye's latest polarizing footwear choice.
When out to lunch with Anna Wintour — another seemingly random decision — West was seen rocking a pair of black platform Crocs. The rubber clogs, which have skyrocketed in popularity over the past year, have been seen on other celebrities like Kendall Jenner, Justin Bieber, and Bad Bunny — but considering West has his own line of rubber clogs, we didn't expect him to join the craze.
These Crocs are designer — Yet Wintour's own accessories, including a massive Balenciaga shopping bag, hint at why Kanye may be donning the platform Crocs. Over the past year, the rapper has become a ride-or-die fan of the designer brand, even inviting Balenciaga's creative director, Demna Gvasalia, to be his creative director during the Donda listening parties — and Gvasalia's latest Balenciaga stunt includes another collaboration with Crocs.
The designer first transformed the Classic Clog into a platform shoe back in 2018, and the collaboration was every bit as successful as it was meme'd. Despite selling for $850, or 17 times Crocs' regular price, Balenciaga's rubber clog sold out before it could even hit stores — and now that Kanye is wearing the latest SS22 version, Yeezy fans will be running to cop a pair of the Crocs.
West is the first to debut the platform footwear off the runway, and guessing by the huge Balenciaga shopping bag he gifted Wintour, the Vogue editor may be the second. While it's unknown why the two were meeting — or just what exactly was in the bag — we can trust Balenciaga is involved in one way or another.
Crocs have clout now — As the $850 designer Crocs may be sold out again before they officially release, you can pick up a pair of regular platform Crocs for a more reasonable $55. The rubber clogs are more affordable — and accessible — than West's Yeezy shoes, but the rapper's love of Balenciaga will likely bring similar hype to Crocs: Make sure to buy a pair while you still can.