Style
Gucci partners with Roblox to launch 'Gucci Town' metaverse world
Within the space, users can rock digital goods, connect with other Gucci lovers, and play mini-games to earn virtual currency.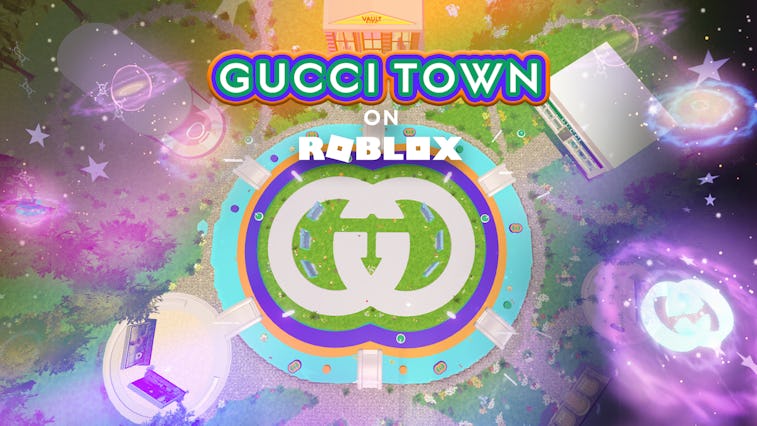 Gucci
Gucci has officially entered the metaverse with the opening of Gucci Town, a permanent space hosted on Roblox. The luxury house describes the project as a "dynamic destination" in which users can explore the vision of creative director Alessandro Michele, express their individuality through virtual clothing, and connect with like-minded individuals.
The virtual experience follows last year's Gucci Garden, a two-week event hosted by the brand on Roblox. There, users were invited to indulge in greenery through Gucci's virtual gardens and digital goods comparable to avatar accessories, the latter of which proved more lucrative than products in the real world. During the event, a bee-embroidered Gucci Dionysus bag — exclusively available for use on Roblox — sold for 350,000 Robux, or roughly $4,115. Physical versions of the bag, which can be worn anywhere, usually retail for $3,400.
Only time will tell whether the same demand (and perceived value) will accompany Gucci Town's offerings, which can be used for more than a fortnight.
Gucci gang — Within Gucci Town, visitors can walk from the central piazza to Mini Game Heights — home to an arena of Gucci-inspired competitions — or Creative Corner, where they can create art pieces experimenting with patterns, colors, and shapes. Users can also visit Power-up Place, a café where community members can meet and interact with their peers.
A virtual Vault Plaza houses an exhibition space inspired by Vault, Gucci's experimental concept store. Acting as the shop's virtual counterpart, the Vault Plaza will showcase some of Gucci's latest products and collaborations — the latter of which has been growing exponentially. To indulge in such styles, users can visit Gucci Shop, where digital Gucci items will be available for purchase.
Limited-edition collectibles will be offered alongside styles such as the archive-inspired Gucci Blondie bags to outfit Roblox avatars. Thanks to the gaming platform's newly-launched "Layered Clothing" technology, Gucci's digital fashion items look hyper-realistic and fit any avatar body type, encouraging users to express themselves further.
Gucci
Gucci
Gucci
Gucci
Gucci
Gucci
Become a model citizen — Above all, Gucci Town is meant to "build and create a community that [users] can engage all year long," Christina Wootton, Roblox VP of global partnerships, said in a press release. This idea is strengthened by the fact that, unlike Gucci's tangible offerings, Gucci Town and its virtual products can be accessed by most regardless of socioeconomic status. It's certainly easier to indulge in an online-only style when money and time aren't concerns — but by becoming an avid citizen of Gucci Town, users can access digital Gucci styles too.
The more visitors interact with Gucci Town's activities, the more they'll be rewarded with GG Gems, an in-experience currency they can use to purchase power-ups and virtual Gucci products. As Gucci Town expands, it'll host a broad range of activities and visiting artists. Each space within Gucci Town will be "updated regularly with new content in conversation with the House's trajectory into the future." Beginning today, players can launch the Gucci Town experience from Roblox's website.
Watch: Extreme Reviews