Advertiser Content
Grooming Essentials Dad Will Love
BDG Studios recommends all of our favorite new grooming technology and innovation, just in time for Father's Day.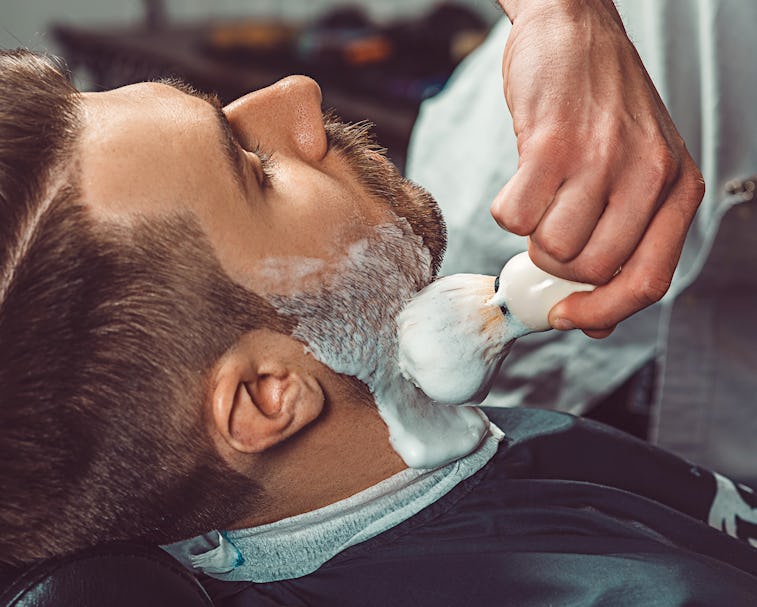 Shutterstock
Father's Day gifts are all about practicality with a dash of cool factor. Shopping for Pops can be notoriously tricky because dads typically say they don't want anything special, yet they're always excited when they get something they didn't know they needed.
Take personal grooming items, for example. Dads tend to stick to what has worked for them in the past, but grooming technology is always evolving, and there are now better options on the market than ever before. To help dads and Father's Day gift buyers understand all of the latest and greatest upgrades to the world of grooming, BDG Studios has simplified it for you with a streamlined, more contemporary approach to Father's Day gift ideas. Here are 14 grooming game-changers to consider for Dad come June 21.
Grooming Revolutionized
A slam-dunk for any dad, Braun's Series 7 is its sleekest, most tricked-out shaver yet. With an innovative middle trimmer and micro-pulsations, it's specifically designed to hit the trickiest areas. An all-new ergonomic handle and 360 Flex technology allows this razor to navigate the skin more nimbly than ever before. On top of that, its AutoSense technology detects beard density and adapts to each individual face. Honing in on the dual wet and dry variations, the shaver adds a 4-in-1 finish that includes a precision trimmer attachment, beach trimmer combs, stubble beard trimmer, and a SmartCare Center to the mix. One hundred percent water-proof with a powerful new battery that lasts up to 50 minutes running, Braun's Series 7 is the most practical and stylish choice for anyone trying to take their electric shaving game to the next level.
A messy soap dish is no place for your dad's premium shaving gear, and luckily for him, that's a thing of the past. When we are talking about straight razors, Gillette has some of the best in the business and their Gillette ProGlide Shield package comes replete with this suave looking razor stand that's the perfect edition to his grooming ensemble. Plus, it will help his razors to stay cleaner and last for longer.
The key to aging gracefully is maintaining the best features you already have, and few products will take care of Dad's distinctive face quite like Haeckels Marine Facial Cleanser. Enriched with botanical ingredients, the bottle is a low-foaming texture that is formulated with bladderwrack (locally harvested seaweed) and parsley seed to really dig deep and flush out clogged pores, while sea buckthorn helps to improve overall skin health and tonal balance. Also, it'll make Dad's bathroom setup look pretty sophisticated.
Sachajuan Scalp Shampoo eliminates flakiness and soothes the scalp. Its Ocean Silk Technology provides balance for the scalp, resulting in a notably refreshed feel.
Oral-B is the No. 1 brand recommended by dentists worldwide, and it's for good reason. This electric toothbrush can go anywhere with a rechargeable lithium battery that's designed to charge with lightning speed. It has five cleaning modes based on all your needs: Daily Clean, Gum Care, Sensitive, Whitening and Pro-Clean Mode. It also has bluetooth communication that allows you to connect with your smartphone for real-time feedback as you brush. The 6000's customizable, multifunctional 360º SmartRing provides real-time visual coaching on timing and pressure to help you brush the right way, complete with pressure sensor technology that automatically protects gums from over-brushing. With a built-in, dentist-recommended two-minute timer, the Oral-B 6000 Toothbrush pretty much does all the work.
The Ritual of Samurai Shave Cream creates a barrier of protection for the skin, and thanks to natural ingredients like basil and ginseng, it also activates the skin's natural metabolism.
The lightweight assortment of sandalwood, cedar, and eucalyptus essential oils can tame any beard and leaves a fresh outdoorsy scent dads will be sure to love.
With seven travel-sized essentials to cleanse and moisturize his hands, maintain skin hydration, and ensure oral hygiene, dad's adventures will be smoother sailing knowing he has with grooming needs covered.
Scents
Fresh and aromatic, this gold-hued cologne blends an essence of Italian citrus, including lemon and bitter orange, and is grounded by a base of vetiver and tonka bean. It's a scent any dad can get behind.
The problem with deodorant is that it's either too harsh or too subtle, but with Malin + Goetz's No. 1 selling product, this trade-off is a thing of the past. Malin + Goetz Eucalyptus Deodorant is made with natural eucalyptus extract and odor-neutralizing citronellyl to bring the body to its natural equilibrium. An alcohol-and-aluminum-free deodorant, the unique ingredients of this special formula keep odor at bay, leaving no stains and keeping Dad fresh all throughout a busy day.
Cool Dad Style
The perfect combination of comfy and classic, the Boston Soft Footbed Birkenstock is made with premium lightweight quality materials. Anatomically shaped, the shoe is lined with leather inside and swede on the outside. This Birkenstock offers Dad the gift of comfort as well as menswear-cool-guy-points.
A good, simple white T-shirt can go a long way. The J Crew 1994 T-Shirt, cut in a relaxed, old-school fit, is a staple piece that needs to be in every man's closet. A J Crew original, the shirt is authentic to the label's roots, made from a heavyweight, open-ended cotton, that's durable and will get dad through the toughest of days.
The Alyx x Moncler Chest Rig is a risky bet, but on the right man, it reeks of aesthetic symmetry and tactical prowess. It adds another dimension to any dad's game for sure, with a mesh back, technical webbed fabric harness straps and adjustable nylon Moncler 107 ALYX 9SM logo buckles. It definitely says you're "going somewhere."
These Thom Browne Aviator Sunglasses are the perfect final touch on any outfit. Designed with an aviator frame, drill mount lens, and tri-color temple tips, Thom Browne Eyewear is a refined touch for a refined taste.
This advertising content was produced in collaboration between BDG Studios and our sponsor, without involvement from Input's editorial staff. Learn more here.