Style
A $60 Champion must-have and 10 other hoodies you need right now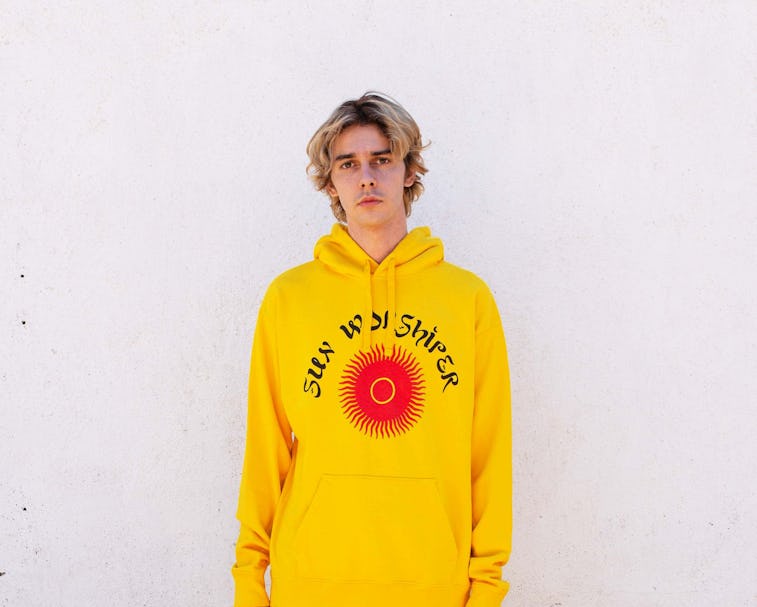 We've been looking ahead to cooler days lately in our weekly roundups, but there are few items for the fall and winter that get us more excited than a new hoodie. The softness of the untouched pile inside, hands secured in the kangaroo pocket, and the hood over your head if you want extra shelter — there's just nothing like the hooded sweatshirt. It's security blanket for adults, one you can wear anywhere without shame.
Even if you already have your one trusty hoodie, there's always room for another entry. From the classic Champion Reverse Weave to a crop of psychedelic jawnz, we've put together a range of options to help you find your new favorite. Wear it with shorts in the 'tween temps, toss it on with pants, or put it underneath a jacket. Whatever you do, wear the hell out of it and make it yours.
Bianca Chandôn Sun Worshipper ($165)
Bianca Chadôn's "Lover" hoodie has been ubiquitous ever since Frank Ocean wore it in the "Nikes" video, but her newer Sun Worshipper piece hasn't become as saturated and is firmly in-line with the nature-loving aesthetic that's taking over streetwear. Who knows, the brightness may even cheer you up when seasonal depression sets in with the winter clouds.
Story Mfg. Bloom Madder Red Crush (~$232)
Take it down closer to earth with this hand-embroidered mushroom atop this hand-dyed tie-dye. The London-based brand has taken a natural approach to its flower child apparel since 2013, using almost entirely biodegradable materials and utilizing leftover materials as much as possible. If you're gonna adopt the tree-hugging aesthetic, you should also take care to get it from a brand that abides by it in practice.
Noah Space Hoodie ($158)
Noah introduced its new Space logo to ring in its FW20 collection, and it's one of the weirder (and cooler) graphics its put out recently. What hasn't changed is the cult favorite brand's made-in-Canada fleece, which comes in at a 12 oz. weight with just the right heft.
Brain Dead Embroidered Graffiti ($180)
I'm going to put another yellow hoodie in front of you because I think it's an underutilized color. This one from Brain Dead is a little more faded and comes with a playful graffiti spellout that's immaculately embroidered.
Kapital Irago Pile Karakusa Namazu ($389)
To take your hoodie game to the next level, consider a material other than brushed-back fleece. This loose-fitting piece from capital made an even softer pile out of a cotton and linen blend that'll allow you to wear it in warmer climates without over heating. A wide neck gives it just the right slouch, while the big beefy ribbons help get you closer to drape god status.
Rowing Blazers Golf Collegiate ($195)
A hoodie should always be casual, but Rowing Blazers' newest hoodie toes the line with Ivy league attire. The brand's Collegiate logo routinely sells out on T-shirts, and it gets just a tad preppier with the rudimentary golf clubs underneath.
Marcelo Burlon County of Milan Wings Hoodie ($475)
I'm generally wary of luxury hoodies because the splurge is needless, but Marcelo Burlon's Wings hoodie comes in at the lower end of the market. The winged shoulders give off the vibes of an elaborate costume without adding anything cumbersome.
Champion Reverse Weave ($60)
The Champion Reverse Weave is the pound-for-pound (or dollar-for-dollar) best hoodie on the market. For 80 years its set the standard for hoodies with its heavyweight, durable fleece. Today, it's available in 23 colors that you can't go wrong choosing from.
Adidas by Pharrell PW Basics ($110)
The hoodie from Pharrell's new basics line with Adidas has largely sold out, but you can still find most colors in your size if you do enough digging. Consider this a preview similar to what Kanye West will be doing with Gap to make his clothing more accessible.
Online Ceramics Riding Alone in the Dark ($95)
Online Ceramics is the leading source for Deadhead merch, as it's been baked into the brand's DNA since before it became a trend. And because this hoodie isn't hand-dyed like much of OC's output, it comes in cheaper than usual (and will probably arrive to your doorstep sooner).
Fear of God Essentials Raglan Full Zip ($90)
I'm calling it now: the zip-up hoodie is due for a comeback. I've already pulled out my old American Apparel hoodies in preparation, but Fear of God Essentials made an oversized zip-up with raglan sleeves is a more modern alternative.