Style
Michael Keaton's Nike Air Trainer 'Batman' boots are going up for auction
Nike made the sneaker-boot hybrids specifically for the 1989 film.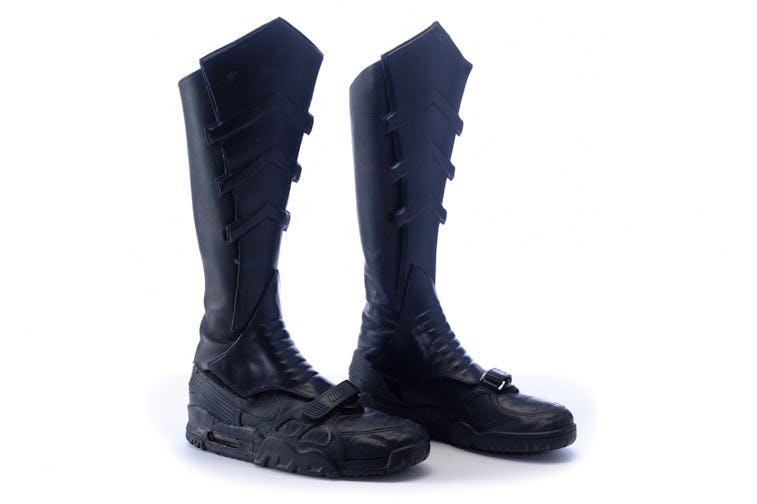 Propstore
Nike has always claimed its footwear features the best technology, the kind capable of making you faster or able to run farther distances. Its Air Soles and rubber outsoles have even helped people soar through the sky and tackle bad guys — or at least they did in the 1989 Batman starring Michael Keaton. The leading (Bat)man donned custom Nike Air Trainer Bat Boots, a pair of which is now up for auction with an expected selling price of $20,000 to $30,000.
Now 33 years old, the shoes feature a pair of black Air Trainer 3 sneakers customized with black leather collars that extend up towards the knee. Additional pieces of leather sit atop the leg to serve as armor plating. Due to the age of the costume prop, the Bat Boots show signs of aging including cracked leather and crumbling midsoles — meaning whoever buys them won't be able to use them to recreate scenes from Batman. The boots are still collector's items, however, and boast a price tag to match.
Behind the scenes — While it's not unheard of for superheroes to wear Nike sneakers — just take a look at Spider-Man's Air Jordans — the kicks don't seem to align with Batman's vintage-style suits and trench coats. In fact, Keaton reportedly only donned the Swoosh to satisfy a product deal struck by Batman producer Jon Peters, Complex reported.
Propstore
Propstore
Propstore
Legendary Nike designer Tinker Hatfield created the sneakers, reportedly for free, to further the brand's influence in pop culture. He also helped craft a more modern Batsuit for the film and made the superhero uniform more muscular and athletic than past ones. According to Complex, the designer owns a personal pair of Bat Boots, which he still displays in his studio.
"[The Batman team was] really speaking my language about being edgy and athletic and actually being able to perform stunts in the very product," Hatfield told Complex. "In other words, it wasn't just a prop. It was also a performance shoe because Michael Keaton had to — and his stunt doubles had to — really do a fair amount of stuff in that actual product." About eight pairs of the Bat Boot were made in total for the first Batman, with some created for Keaton and others for his stunt doubles.
Be Batman — Air Trainers are slowly making their return today, revived by Nike through retro-d pairs and Travis Scott collaborations. None may reach the level of influence — or value — as Batman's own, however, and owners of the Nike Air Trainer Bat Boots will have a slice of both sneaker and film history. The pair is estimated to fetch between $20,000 to $30,000 through the prop auction site they're listed on, but we wouldn't be surprised if Batman fans sent the price soaring like the character himself.