Style
Amazon's AR tech lets you try on sneakers before you buy them
Only available for iOS users for now.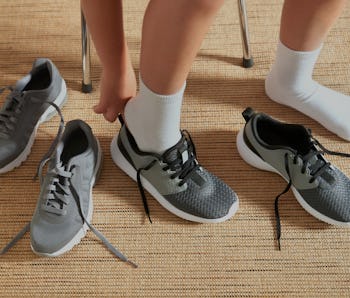 Peter Dazeley/Photodisc/Getty Images
Amazon shoppers can now use a new augmented reality tool to try on their shoes virtually. The feature doesn't apply to every shoe on the platform, but participating listings will feature a Virtual Try-On button within the Amazon Shopping app.
As of now, the feature is only available for iOS users in the United States and Canada, but Amazon plans on bringing it to Android users in the future. You can try on shoes from Puma, Reebok, New Balance, Adidas, and more, viewing the kicks from different angles with your camera. Without exiting the window, you can even check out different color variants for the same model.
AR is catching on across fashion — Amazon is hitting its stride in the fashion industry, racking up thousands of #Amazonhauls on TikTok and Instagram. The company has been relatively slow to fully embrace AR technology, however, compared to competitors like Walmart, Google, and Pinterest. Previous attempts have included a feature called "Made For You" that allowed users to see what athletic shirts looked like on avatars with similar body shapes and an AR feature for seasonal shipping boxes.
Back in May, the retail giant opened its first physical clothing store in California, where customers can send items to the fitting room based on QR codes. Outside of fashion, the retailer also implemented creepy Amazon One tech into select Whole Foods Markets (and a New York City Starbucks) that allowed customers to pay using just their palm prints.
AR technology has been implemented in different forms by other companies too. Nike uses a similar camera technology in its Nike FIt app to scan a user's foot in order to find a sneaker model that best fits their size and needs. Other companies like Sally Hansen and Warby Parker let you "try on" nail polish and glasses, respectively, using just your camera.
You can download the Amazon shopping app in the App Store now to try on your next pair of kicks.