Reviews
Pixelbook Go review: killer battery life makes this Google's best hardware in years
Could this be the perfect Chromebook?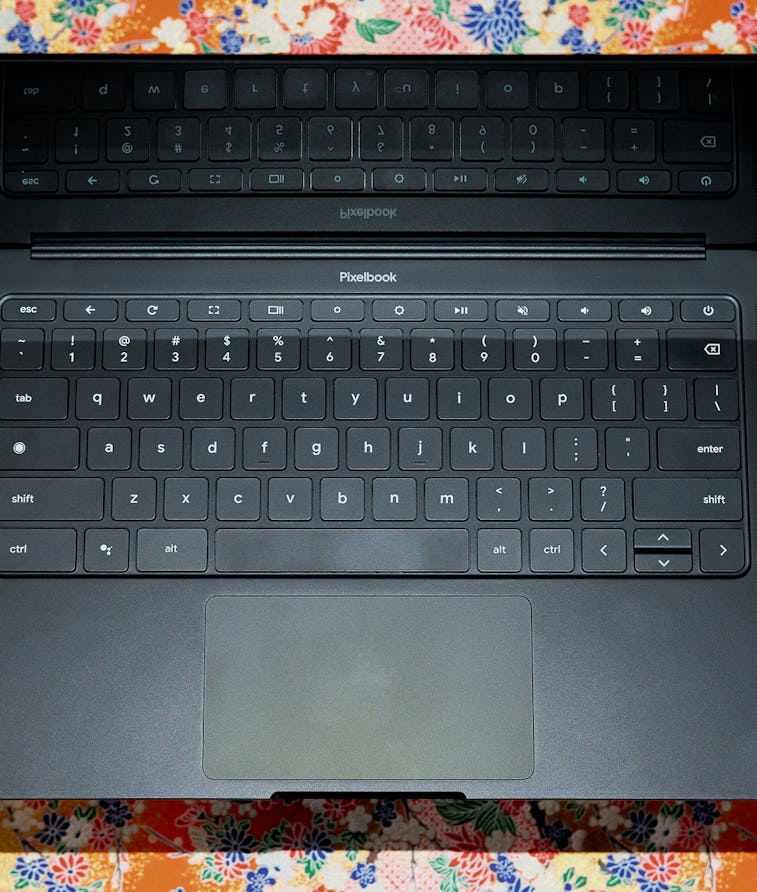 Joshua Topolsky / Input
Google's Pixelbook Go, which starts at $649, is a no-nonsense Chromebook. No 360 hinge that flips the screen back, no detachable keyboard, and no stylus support. Just a simple, thin-and-light notebook that runs Chrome OS and has a reliable keyboard, trackpad, and touchscreen.
But the best reason to buy the Pixelbook Go instead of a MacBook or Windows 10 laptop is its stellar battery life. You really can use it all day on a single charge.
Simple is best
I tested the $849 Pixelbook Go with 8th-gen Intel Core i5 processor, 8GB of RAM, and 128GB of storage. This is the model you should get if you can afford it, because the $649 version with an Intel Core m3 chip and only 64GB of storage isn't going to get most users very far. If you really want to go nuts you can also configure the Pixelbook Go with an Intel Core i7 processor, 16GB of RAM, and 256GB of storage for $1,399.
Clean design — Google got all the laptop basics right. Hewn from rigid magnesium, the Pixelbook Go is thinner (0.5 inches) and lighter (2.3 pounds) than a 13-inch MacBook Air and MacBook Pro. Like my two-pound MacBook, I barely felt the Pixelbook Go in my backpack.
My "Just Black" review unit is matte black inside and out, but it's also a gross fingerprint magnet. The "Not Pink" color is a nice, soft departure from the rose gold hues you see on so many notebooks these days and will likely show far fewer prints. I'm also really into the wavy washboard-like bottom, which makes it easy to grip and transport.
Responsive touchscreen — I can't stress enough how complete the Pixelbook Go is for a Chromebook. The 13.3-inch Full HD touchscreen (4K on the $1,399 version) is plenty bright and very responsive. The screen doesn't compare to a MacBook's Retina display on resolution, color, or viewing angles, and I wish it was a little taller with a 16:10 aspect ratio instead of 16:9, but I'm nitpicking.
All the ports you need — You get two USB-C ports, a headphone jack, a 1080p webcam, and Google's Titan C security chip for locking down all your data on-device. Missing, however, is a fingerprint sensor or any face unlock. I hated typing in my long and scrambled password every time to log in, and it feels like for this price, some modern security would be expected.
Excellent keyboard — The layout is as spacious as a 13-inch MacBook Pro keyboard, but has quieter keys with more travel. Personally, I think the Surface Laptop 3 has the best laptop keyboard, but the Pixelbook Go's keys feel great to type on, too.
Some of the keys are different, which takes some getting used to. For example, there's a Search key where the Caps Lock key would normally be, and also a dedicated Assistant button. I'm thrilled Google didn't mess with the row of function keys.
Mostly smooth trackpad — The trackpad is also fantastic, for the most part; the glass surface isn't too small or large. Tracking is sometimes a little fiddly — Google told me an upcoming Chrome OS software update will iron out any jitteriness — but otherwise it's responsive.
Balanced power
All-day battery life — I was most impressed with the Pixelbook Go's battery life. Google claims it achieves up to 12 hours of battery life for "mixed usage" and standby time and I got darn close to it. On days when I worked exclusively in Chrome without any other apps open, the Pixelbook Go lasted 8-9 hours and still had on average 20-30% battery leftover. Add on the 2-3 hours I used it for watching Full HD YouTube videos at home and I bumped up against the 12-hour claim.
The Pixelbook Go also supports fast charging. A 10-minute charge with the included 45-watt power adapter gets you an hour of battery life. It isn't as quick as the Surface Laptop 3's fast charging, which goes from 0 to 80% in about an hour, but it works great in a pinch.
The Pixelbook Go lasted 8-9 hours and still had on average 20-30% battery leftover.
Living in Chrome — I hit the Pixelbook Go pretty hard with a pretty heavy workload, consisting of a dozen Chrome tabs (across two Google profiles), messaging in Slack, writing in Google Docs, and little bit of 1080p YouTube video streaming, and it chugged along without issues. The processor and RAM does hit some bottlenecks if you go really bonkers on the Chrome tabs so that's another reason you might want to spec the device out.
Even with Android apps, Chrome OS will probably never be as full-featured as macOS or Windows. It can't run desktop-class apps like Adobe Creative Cloud and it can't play 3D games like Fortnite or Asphalt 9 (I tried and it's unplayable), but most people can now get the majority of their work done within Chrome or Android apps — I successfully did it.
Should you buy it?
The Pixelbook Go is a true spiritual successor to the original Chromebook Cr-48 prototype that dared to usher in barebones, cloud-connected laptops during the MacBook's prime. It's clear there's a big market for that kind of computer.
There are cheaper Chromebooks out there, but those price cuts usually come at the expense of core essentials like performance and battery life. The Go has none of those compromises.
On the other hand, The device I tested is $250 less than an entry-level MacBook Air and $150 less than a 13-inch Surface Laptop 3. Does it make sense to get a Pixelbook Go when a fully-featured laptop is only a few hundred bucks more? If you're committed to the cloud-based world of Google apps and want a device that will actually get you through an entire day of work: hell yes.