Holiday gift guide
The best home audio gifts for every budget
From the peak of luxury to the highly practical, these are the best home audio gifts.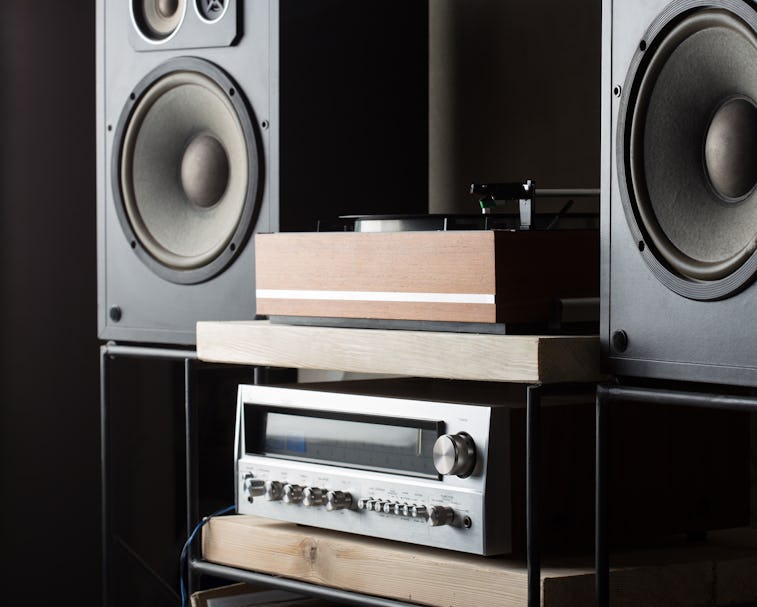 Shutterstock
Concert venues are closed; cinemas are obstacle courses of hygiene theatre; your favorite artist is on the third leg of a world tour played entirely from the acoustic wasteland of their own basement. I wouldn't call myself a live music addict, unless taking walks by my local bandshell "just to get the vibe" is considered a withdrawal symptom.
Perhaps there is someone in your life who, like me, reminisces about the experience of being spilled on by a stranger at a music festival. And if there is, you're in luck; you can give the gift of sweet music technology this holiday season to dull those idle reveries, and you can do it at any budget.
High-end
Input may receive a portion of sales if you purchase a product through a link in this article. We only include products that have been independently selected by Input's editorial team.
My B&O Bluetooth earbuds are probably in my top 5 desert island products I can't live without, but the nearly-century old Danish company is best known for its speakers. Their newest model, the Beosound Balance, was released earlier this year. Designed by award-winning industrial designer Benjamin Hubert (LAYER), the Balance features an oak wood base, five separate speaker drivers, and the ability to play directional or to fill a room. It can be customized with or without Google Assistant for smart capability. It's the priciest one on our list, but if you're looking for a high-quality speaker that can also serve as interior decoration, this is the one.
If paying four figures for home speakers means you expect studio quality, you'll want to check out this collab with Barefoot Sound. Some artists who've recently repped Barefoot's studio monitors include Coldplay, the Cold War Kids, David Guetta, among others. It's packaged their custom woofers and high-efficiency tweeters into a two-speaker set. The clean, natural oak finish of Shinola's design feels to me like the platonic ideal of bookshelf speakers: simple, classic, something my dad might own. They're designed to match Shinola's turntable, but can be connected via Bluetooth or USB to anything you'd like.
Our interest in Teenage Engineering's hardware is well-documented, and the Swedish audio company's OD-11 speaker is the company's whole project at its purest: a retro minimalist design with Carlsson's pioneering ortho-directional audio rebuilt with modern tech. The OD-11 sounds like a professional speaker and looks like it was repossessed from the spaceship in 2001. Don't be fooled by the retro vibe; it connects easily to pretty much any device via Bluetooth, or direct hard line, and it can be paired with additional units to create your own Swedish minimalist home surround system. Teenage Engineering makes a custom remote just for the OD-11 that can also be used as a MIDI controller.
Mid-level
Klipsch has an almost overwhelming selection of speakers, but what I like most about the Three II (that's the second model of the company's Three speaker) is how much hardware Klipsch fit into a small, shelf-ready package, and the way that hardware delivers. The Three II has two full-range drivers and a dedicated bass driver, maintaining Klipsch's legendary audio quality. The mid-century modern design also feels legitimately, not cheaply, retro.
Even among an ever-crowding marketplace, Sonos has retained its spot as the favorite for consumer home theater audio. The One SL works alone or it can be linked to another Sonos to help complete a surround sound setup.
I found this combination speaker/table lamp from IKEA when I was looking for a way to break my habit of going to bed with my phone right by my pillow. Not only did it do the job, but it's a great whole-room speaker that can be used with or without the lamp turned on. It's perfect for anyone in a small apartment who needs every piece of furniture to serve at least two functions, but they can also work as TV speakers and can be easily paired with additional units or any other Sonos speakers. Plus, the warm, soft light with no exposed bulb makes it the best lamp I own.
Budget
It is hard to beat Google's Nest Audio when it comes to price-to-performance. To paraphrase Raymond Wong (Input's reviews editor), who reviewed the Nest Audio: It sounds great. And if you already have Google's other assistant devices peppered around your home, it'll integrate like charm.
I don't know why, but even as one of the industry standards for touring loudspeakers, these days I think of JBL as the Official Speaker of the Backyard Barbeque. The company has speakers that are meant to be tossed around, speakers that light up, and speakers that are waterproof. But the Link Music, their version of a smart speaker, is the best looking and most shelf-ready of their consumer-level speakers. Its look is somewhere between a Nest Audio and a HomePod, but it's cheaper than either and comes equipped with Google Assistant.
Growing up in Massachusetts, Cambridge SoundWorks was the premiere home theater company, the kind of public place where I used to be able to hang out on a La-Z-Boy sofa and watch someone else's TV for free. Now, the company manufactures the Oontz line of portable speakers. The self-deprecating name belies the price and the quality: these are no-frills, grab & go portable speakers. But the real sell here is their waterproofing; I use it for shower belting, or for when I'm doing the dishes.