Gaming
Xbox's next 20 years is all about streaming Game Pass everywhere
Ahead of its summer games showcase, Microsoft is expanding Xbox features to new countries and platforms, and trying to find a way to offer the E3 experience at home.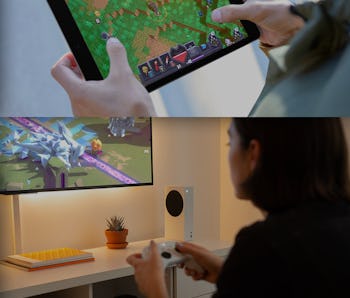 Ahead of its games showcase with Bethesda, Microsoft is pulling back the curtain on what the next 20 years of Xbox will look like, and no surprises here, but it includes a lot of Game Pass and Xbox Cloud Gaming.
Being everywhere — Microsoft is expanding Xbox Cloud Gaming beta — the game streaming portion of its subscription business — to New Zealand and Argentina starting today, meaning you can dive into Game Pass' large catalog of games and yes, you can play Fortnite on your iPhone or Android phone.
Even more important to Xbox's eventual post-console future is the addition of an Xbox app to Samsung TVs and monitors. Microsoft says the new TV Xbox app should be available on June 30, where it'll join services like Google Stadia and GeForce Now in adding console and PC-free game streaming to Samsung's Gaming Hub.
Microsoft didn't say when the app would be coming to other screens (one has to imagine it's not coming to Apple TVs anytime soon) but either way, the change is important. And it's not the only one coming to Xbox Cloud Gaming. Microsoft says starting later this year you'll be able to stream select games from your library that aren't on the Game Pass service. The end goal is for every game you own to be streamable, but it seems like that will require Microsoft to strike some more deals with publishers.
Even Windows 11 — The slow creep of Xbox is also happening on the Windows 11 side of things. Microsoft is working on a Game Pass Widget for getting recommendations and launching games on the service and an HDR calibration app if you splurged on a new display recently.
For Windows Insiders, you can already try two other new upcoming improvements. Windowed apps should have lower latency and support for Auto HDR and Variable Refresh Rate, and with the new controller bar feature, just by pressing the Xbox button on a connected controller, you can launch recent games without having to use a keyboard or mouse.
Project Moorcraft — The most intriguing part of Microsoft's plan is also the one that has the least details. Project Moorcraft, a Game Pass feature the company hopes to launch in the next year, introduces the opportunity to try out demos of in-development games from wherever you access Microsoft's subscription service.
"...Recreate the experience of showing off a game at a conference like E3 or PAX..."
The goal, according to Xbox executives, is to recreate the experience of showing off a game at a conference like E3 or PAX, where developers get the chance to receive feedback and players get the chance to play a game before it's released. Microsoft says developers "will be able to see how their demos perform and be compensated" for the extra work of creating a demo.
Brewing in the background — Microsoft's increasingly bigger Xbox and game streaming push finds the company in an interesting position. Game Pass remains popular, but as Waypoint reported last month, the service's benefits for developers are becoming less certain.
Working with the Xbox team is also at the precipice of major change. Microsoft is attempting to acquire Activision Blizzard, which is home to one of the first game industry unions at Raven Software. Head of Xbox Phil Spencer has reportedly confirmed the company will recognize the new union, but what does the future of labor organizing look like assuming the acquisition is successful? It's really too early to say.