Closed ring
Sonic Frontiers will be 'open-zone,' with no smooching allowed
Sega has a few simple rules for dating its teenage hedgehog in Sonic Frontiers, so you won't see the Blue Blur kissing people anytime soon.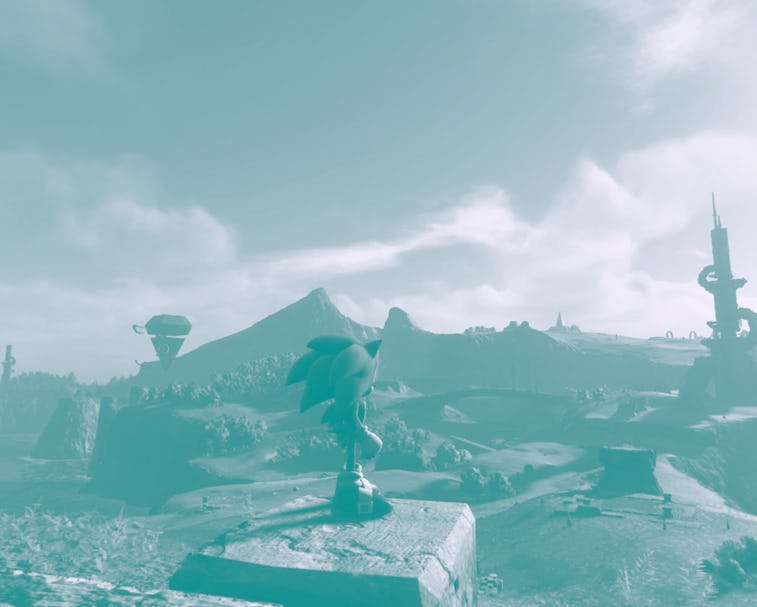 It's been a messy reveal period for Sonic Frontiers. While Sega clearly hopes that the game will revive the fortunes of its iconic mascot, both fans and critics seem less-than-impressed with the early footage of this "open-zone" game.
In a recent interview with VGC, Sonic Team boss Takashi Iizuka opined that the haters simply don't understand how Sonic Frontiers differs from the dozens of open-world games out there. Since then, Iizuka has continued his whirlwind interview tour, and we've learned a lot about the Blue Blur's future as a result.
Romance is dead — In a conversation with Axios, Iizuka said that Sonic Team adheres to two strong rules for every new game: Sonic must run fast, and he also cannot swim. Of course, there is a third unofficial rule that Sega instituted after the debacle that was Sonic 2006: Sonic can't kiss any humans. Sorry folks, the world's most famous hedgehog is gonna stick with his own species for the moment.
While I personally have a soft spot for the grand disaster of Sonic 2006, I think these are some pretty decent rules for the franchise. After all, Sonic sunk like a stone in the classic 2D entries, so it makes sense that he shouldn't be donning scuba gear Crash Bandicoot-style. Still, I personally think that Sonic's commitment to speed is one of the main sources of his recent woes, as it's much more difficult to navigate a fast-moving character in a 3D space.
Running in circles — Disagree with me if you must, Sonic fans, but I don't think any game in the series has truly nailed the feeling of controlling the hedgehog or his friends with an analog stick, and that's one of the key problems with the series since Adventure. However, if you enjoy the more decent 3D Sonic game such as Adventure 2 or Colors, Iizuka made it clear in his talk with Digital Trends that the company intends Frontiers to be the beginning of a "third-generation" of Sonic games, with Adventure 1 serving as the beginning of the "second-generation."
Even as a Sonic fan, I think it's fair to say that this second-gen was mostly a bust, so let's hope that Frontiers can turn the tide. Honestly, though, I don't think it's going to happen.