Ultimate hype form
The new Sonic game looks too bad to be true
The first trailer for Sonic Frontiers has emerged in the wild, and it looks like it learned some lessons from the popular video games of the past five years.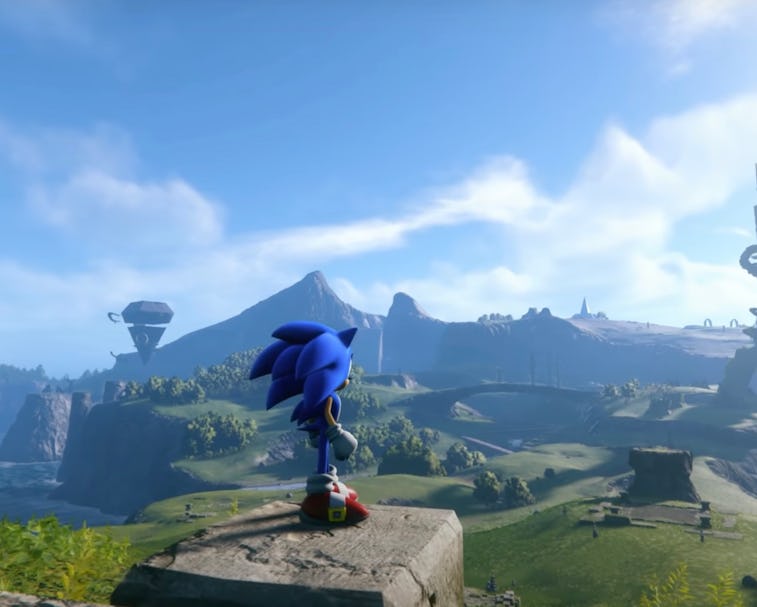 Sega
We've known about Sonic Frontiers — the upcoming open-world Sonic the Hedgehog game — for a while now, but we haven't heard much about it. The first footage of the game in action emerged this week, and it definitely looks like the Blue Blur has been breathing in the wild and watching the horizon, if you catch our drift.
Awful jokes aside, this new Sonic game definitely has potential, but I'll be honest: this thirty-second gameplay reveal didn't do a lot for me.
Where's Big the Cat? — The clip consists of Sonic running in a field and activating some kind of ancient hamster wheel that appears to serve as a Ubisoft-style objective tower. The Blue Blur then does some more hedgehog-type things, which includes bashing robots, grinding on rails, and fighting a boss.
Overall, while it certainly seems like Sega has put some amount of effort into overhauling the character's concept, Frontiers still has a strong resemblance to the 3D Sonic games of my youth.
Iblis triggered — While I have a lot of love for the likes of Sonic Adventure 2 and Sonic Generations, they all suffered from the same flaws: twitchy character movement, underwhelming combat, and a not-so-sneaking suspicion that the game is playing itself most of the time.
Perhaps I'm just a bit biased, but I see all three of those shortcomings in this half-minute of footage. I'm also concerned that Frontiers might take too many aesthetic notes from contemporary games, because everything we've seen so far looks a lot like the post-apocalyptic ruins of Breath of the Wild.
Obviously, I'm not going to completely judge a game based on a short trailer, and I absolutely plan to play Sonic Frontiers regardless of what the fans and reviewers say. Personally, I suspect that it will be the best Sonic game in years, though that's not saying much.
But, let's be honest, Sega fans: we've been burned by flashy trailers with uplifting piano chords before, so let's stop the hype train before it leaves the station, okay? Or at least wait for a longer gameplay reveal before we hit the rails at full speed. At least you won't have to play it with these awful furry Sonic-themed controllers.
Watch: Extreme Reviews