Chunk by chunk
Saudi Arabia buys 5% of Nintendo, because why not
Saudi Arabia's Public Investment Fund, which has purchased small and large stakes in a number of tech companies, has purchased 1/20th of Nintendo.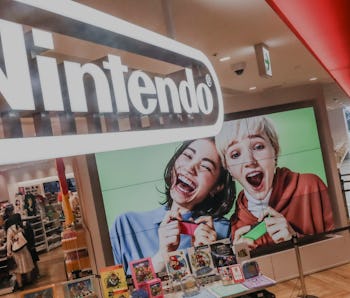 Saudi Arabia hasn't been shy about buying up shares of major tech and gaming companies, but the country's latest move might hit everyday gamers a little close to home.
Per a Bloomberg report, Saudi Arabia's Public Investment Fund (PIF) now owns 5 percent of Nintendo, arguably the most iconic gaming brand in the world. This makes the PIF the fifth-largest shareholder for the company. A Nintendo spokesperson told Bloomberg that they learned about the investment from news reports, which is... maybe not the best thing to tell a major business outlet.
Buying it up — This isn't the first time that Saudi Arabia has bought a part of a notable gaming company. According to public disclosures, it owns 5 percent of Resident Evil publisher Capcom, as well as 5 percent of the MMO developer Nexon. These stock purchases are driven in part by the relative weakness of the Japanese yen, as well as a number of high-profile acquisitions in the gaming space over the past year. Microsoft's record-setting plan to buy Activision Blizzard is definitely the biggest one, but let's not forget that Sony bought Destiny 2 developer Bungie, too.
Saudi Arabia's highly-controversial crown prince Mohammed bin Salman also owns 96 percent of the classic gaming company SNK through his eponymous foundation MiSK. Back in 2020, the PIF invested $3 billion in large gaming companies like Activision Blizzard and Take-Two.
Game and washing — Some observers have compared Saudi Arabia's investments in tech and gaming to the practice of "sportswashing," which is when a body with a negative reputation sponsors or participates in sports to artificially engender goodwill. For example, wrestling company WWE has been widely criticized for accepting millions of dollars to put on special events in the country, especially considering that women were banned from wrestling in the events and Saudi Arabia's poor record of human rights.
Watch: Extreme Reviews