Hype life
Is anybody actually excited for PlayStation VR 2?
Sony's recent State of Play showed off a lot of promising games, but we're still not sure what exactly to expect from PS VR 2.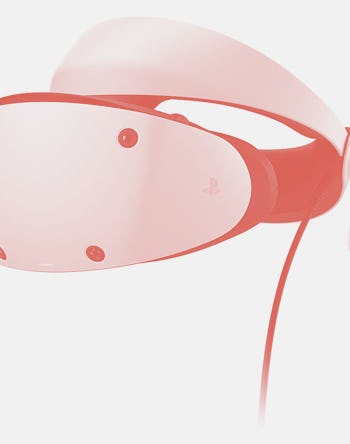 Hey, do you remember when everybody thought that the original PlayStation VR was going to catapult virtual reality into the mainstream?
That was more than five years ago now, so no worries if the details have grown hazy. While the PS VR was ultimately a commercial success, selling more than 5 million headsets by 2020, it failed to break the seal on overwhelming VR penetration. (To be fair, that was never going to happen, was it?)
Well, it seems that Sony is still really committed to this whole VR thing, as it showed off quite a few impressive trailers for the upcoming PS5 headset during its State of Play presentation earlier this month.
But while VR-ified takes on big names like Resident Evil and Horizon might move the needle for hardcore gamers who haven't pulled the trigger on a headset yet, what exactly should we expect from Sony's new stab at the technology? To put it bluntly, I'm really not sure yet — and as such, Sony is in a bit of an odd place right now.
In the five-plus years since the launch of PS VR, the virtual reality landscape has changed quite a bit. The success of the Meta Quest 2 (and its predecessor) has made it clear that there's a big market for standalone headsets that don't break the bank, shipping almost 9 million headsets last year according to IDC. For context, that's almost double the total number of all VR and AR headsets sold in 2020. Quite a coup, by any standard.
The VR market has been split for a while now between high-end PC-based headsets like the Vive Pro 2 (which usually retail for at least $800, and require a PC that costs even more) and entry-level standalones like the Quest 2 (starts at $300). This leaves the PS VR 2 as the potential halfway point between the two, which sounds appealing from a certain perspective. $500 for a box that plays VR games might seem like a lot in a vacuum, but when you consider that retailers literally can't keep PS5's on the shelves, it's an intriguing buy.
However, the PS VR 2's asking price is the key factor that will determine whether or not Sony can pave a lane for itself right down the middle of the market. While the original PS VR cost $400, I can't help but wonder if Sony will try to keep it as low as possible to compete with the Quest 2's of the world. Then again, the PS5 is already a bit more expensive than the PS4, so perhaps a slight boost is in order. Personally, I think $400 is a safe price, and Sony will stick with it.
While we don't know the price or the release date of the PS VR 2, we do have a pretty decent idea of its specs: two OLED screens with 4K resolution, a 110-degree field of view, haptic feedback, and improved eye-tracking compared to its predecessor. Those are impressive figures, to be sure, and they mostly blow the Quest 2 out of the water. However, they fall well short of the Vive Pro 2's specs — though that shouldn't be a surprise, should it?
On paper, it's easy to glance at the Quest 2's eye-popping sales numbers and conclude that a console-based VR headset will probably sell well too. Personally, though, I'm not necessarily convinced that PS VR 2 and the Quest 2 are competing for the same customers.
If you've seen Meta's marketing of its new headsets — and if you've watched an American sports event in the past year, you certainly have — the company is emphasizing every possible use case for the headset besides gaming, including exercise routines, chat programs, and other carrots of the so-called "metaverse." Obviously, since the PS5 is a video game console, it's safe to say that the PS VR 2 is a gaming headset first and foremost, for better or worse.
All of the biggest trends in the space... favor accessibility over expensive technological marvels.
Cards on the table, I have been a VR skeptic for many years now, and I remain unconvinced. I think that the number of people in the world who want to strap a large heavy object to their head for hours in order to escape into total immersion is a lot less than most enthusiasts think. That said, though I doubt that VR will ever be as mainstream as its proponents imagine, I do think that it has a bright future as a high-tech curiosity beloved by a diverse and dedicated core of users.
Call me a hater if you must, VR fans, but I don't think that VR gaming is ever going to be the monolith that Oculus early adopters imagined a decade ago. All of the biggest trends in the space — the explosive growth of mobile gaming, emerging subscription services like Xbox Game Pass and the new PlayStation Plus, endemic mega-games like Fortnite — favor accessibility over expensive technological marvels.
The Quest 2 represents the affordable, accessible version of VR that might prove me wrong, and it will likely have a wider selection of software and games than the PS VR 2 as well. How is PS VR supposed to compete with that? Honestly, I would say that it doesn't really have to, because they're in such separate lanes. What Sony absolutely does have to do is build hype for this new console-based headset, and I don't think the company has done a very good job so far.
This is obviously subjective, but I just haven't seen the level of buzz that you would expect from a splashy new hardware drop like the PS VR 2, on social media or elsewhere. The reaction that I saw to State of Play was more of muted disappointment than cautious optimism. With the exception of the Resident Evil 4 remake, there was more discussion about the games that didn't appear in the event (particularly God of War Ragnarok) than those that did, which is never a good sign.
I think pretty much everyone who has closely followed the hype cycle of the PS VR 2 recognizes that Sony has a very good device on their hands here. The company needs to find a way to move the needle from "hm, that's cool" to "wow, I need that!" in the next few months. While big exclusives like Horizon: Call of the Mountain are a decent start, we need to actually see the headset in action.
For example: Will demanding experiences like Horizon still give a massive portion of the gaming public motion sickness, and does the company have a plan to deal with that? How comfortable is it? Is Sony really going to try to build their own version of the "metaverse"? These are all questions that PlayStation is going to have to answer as journalists and early adapters actually get their hands on the headset itself.
I think the next two to three years are going to be a crucial time in the history of VR, and PS VR 2 is set to be a major part of the gaming side of the equation. One thing's for sure: As Xbox continue to gain on PlayStation in many ways, from subscription services to outright market share, Sony needs to emphasize its advantages over the big green box, and VR is one of the bigger ones. It remains to be seen if they can make the best of it.