Gaming
Halo Infinite may be inching towards a new battle royale mode
In a new leak, scripts from a rumored game mode point toward what could be a bit of a departure from the usual Halo fare.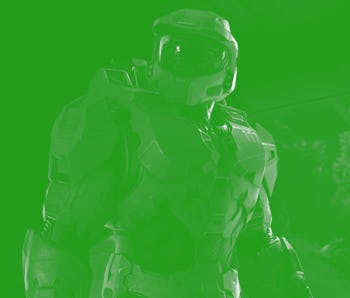 Halo Waypoint
Halo Infinite has been a tricky game to nail down. Its debut was seismic, marking the franchise's biggest launch ever, with 20 million users accounted for by the end of January — fueled in part by the game's free-to-play model. Popularity aside, the biggest knock on the latest entry to the franchise has been a lack of content. The possibility of a battle royale mode hitting the slate of multiplayer options, however, could add some much needed diversification.
The mode is apparently dubbed "Tatanka" according to a popular Halo Infinite Twitter account which posted a leak of what it claims to be scripts from the actual game mode itself.
The biggest takeaway from the list above is namely that Tatanka seems to incorporate elements of Infinite's campaign into a battle royale format. Forward operating bases (FOB) exist in the campaign, essentially functioning as replenishing stations for ammo, grenades, weapons and vehicles. These outposts are taken in the campaign by eliminating the enemy forces occupying them and will apparently be part of battle royale.
"Tatanka_gear_cache," "tatanka_ammo_pickup," and "tatanka_weapon_upgrade_trunk," could be related to FOB weapon pads, where players can acquire weapon upgrades and gear replenishment by earning kills and assists.
Mint Blitz, a Halo YouTuber and Australian Twitch partner, goes over some other campaign-influenced features that can be inferred from the leak, like the ability to pick up campaign versions of the standard weapons by cashing in points at FOBs accrued by slaying other players, PVE enemies, and "completing other objectives on the map."
Long time coming— Rumors of a battle royale mode have been circulating since the game's release, but a clearer picture was painted at the end of April when Jez Corden, an editor at Windows Central, speculated that it could arrive with the beginning of season 3.
While Infinite has been generally well-received by critics, it exists within a highly competitive field of first-person shooters. In order to draw in the Warzone and Fortnite crowds, 343 Industries reportedly partnered with Certain Affinity (also reported by Corden) to develop a battle royale mode that separates itself from the pack.
Rumors have also suggested Infinite may add a battle royale mode with a PvPvE element and objectives to be completed within the mode outside of simply being the last man standing.
Leaks should always be taken with a grain of salt but if you were looking for something to put faith in, I would point out the inclusion of a retro_reflectivedome script, suggesting a shrinking map feature — a hallmark of any battle royale game.
To be clear, this feature is already present in season 2's Last Spartan Standing mode (a battle royale-lite equivalent) but its presence in the leaked Tatanka scripts suggests the fully-realized battle royale will at least follow some of the genre's other conventions.
Watch: Extreme Reviews