Design
Porsche let sneaker guru Sean Wotherspoon redesign one of its cars
A Porsche Taycan 4S Cross Turismo expands the sneaker designer's wheelhouse.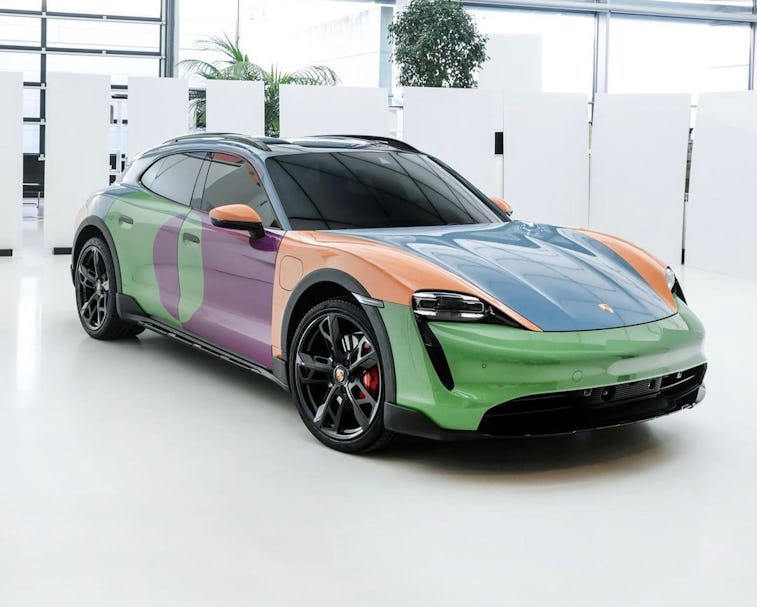 Porsche
Sean Wotherspoon is living life in the fast lane these days, thanks to Porsche. On Monday at SXSW, the two debuted their collaboration, a one-off, fully electric Porsche Taycan 4S Cross Turismo adorned by his artwork.
All gas, no breaks — Part of the "Porsche Unseen" series, the car is color-blocked to the max in a cool palette of green, orange, purple, and blue. Inspiration behind the tones comes from his family, as each is named for someone near and dear to his heart: Nash Blue, Loretta Purple, Ashley Green, and Sean Peach. All of the hues come out of Porsche's extensive color library and were hand-painted by the Porsche team.
More of Wotherspoon's design flourishes include the circle on the doors, which is a nod to the German auto manufacturer's races at Le Mans back in the 1950s. In an Instagram post, Wotherspoon explained that "the hand-painted artistry and time that goes into achieving the perfect circle on these cars is pretty unbelievable, especially when you're dealing with curves like the Taycans."
Pre-Porsche — Wotherspoon and Nike's 2018 Air Max 1/97, a hybrid sneaker that combined two classics, first put him onto many sneakerheads' radar and still has a staggering resale price of $1,234 four years later. He's gone on to design more kicks, though none reaching the same highs in hype, including an Adidas Superearth, Adidas Superturf Adventure, and a wild Atmos x Asics sneaker.
The Round Two founder previously dipped into the vehicular world in 2020 with color-blocked Vespa Primavera 125 scooter. As for the Porsche at-hand, the interior will be revealed in-full later on in the week at SXSW. An auction for the one-of-one car could be in the works, and it sure would be a beauty out on the road.